At the time of writing this book, Bitcoin prices have been hovering just above 100 USD per BTC (about 103 dollars). When Bitcoin was first launched, you could buy coins for less than a penny. Bitcoin prices peaked at over 250 USD in April of 2013 before dropping back down. These large price swings should be expected given that Bitcoin is such a new type of financial instrument.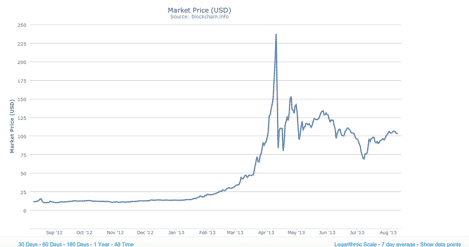 Prices are determined by supply and demand. If demand for Bitcoins is high, prices will generally rise. If the supply of people willing to sell Bitcoins at current prices is high, prices will drop. In order for prices to rise, either demand must rise or supply must be cut. Prices will rise when demand outstrips supply and will decline when supply outstrips demand.
The maximum number of Bitcoins available to be mined is 21 million. Already, about have of all Bitcoins have been mined. The mining system is also set so that a new block of Bitcoins is mined every ten minutes. Initially, 50 Bitcoins were included in every new block, however every four years that number is cut in half. Currently, 25 Bitcoins are included in every block, and in about three and a half years the number will be halved again. As you can see in the chart below, the rise in the number of Bitcoins in the market is slowing down. This ensures steady but declining supply of Bitcoins into the market, which will help protect the currency's value and keep prices high.