After two months of work since its launching in July, the Ireland-based Bitcoin prediction market Predictious has reached an important milestone: 1,000 registered users and about $40,000 in Bitcoin deposited on the website. And there's more, as the platform managed by the company Pixode is now announcing several new features among interface improvements and new contracts.
According to a press release, "Predictious has revised its fee structure, and fees for very likely or very unlikely events have been slashed by 50 percent, from 0.0001 Bitcoin per share to 0.00005 Bitcoin per share".
Besides, each contract currently has a graph that shows the evolution of the share price, as well as an order book. "Those are very useful tools for traders, as they like to have as much data as possible when trading", adds the press release. Predictious also has a new option that allows to display share prices as odds in various formats – decimal, fractional or moneyline, among others -, which "people familiar with sports betting will like a lot".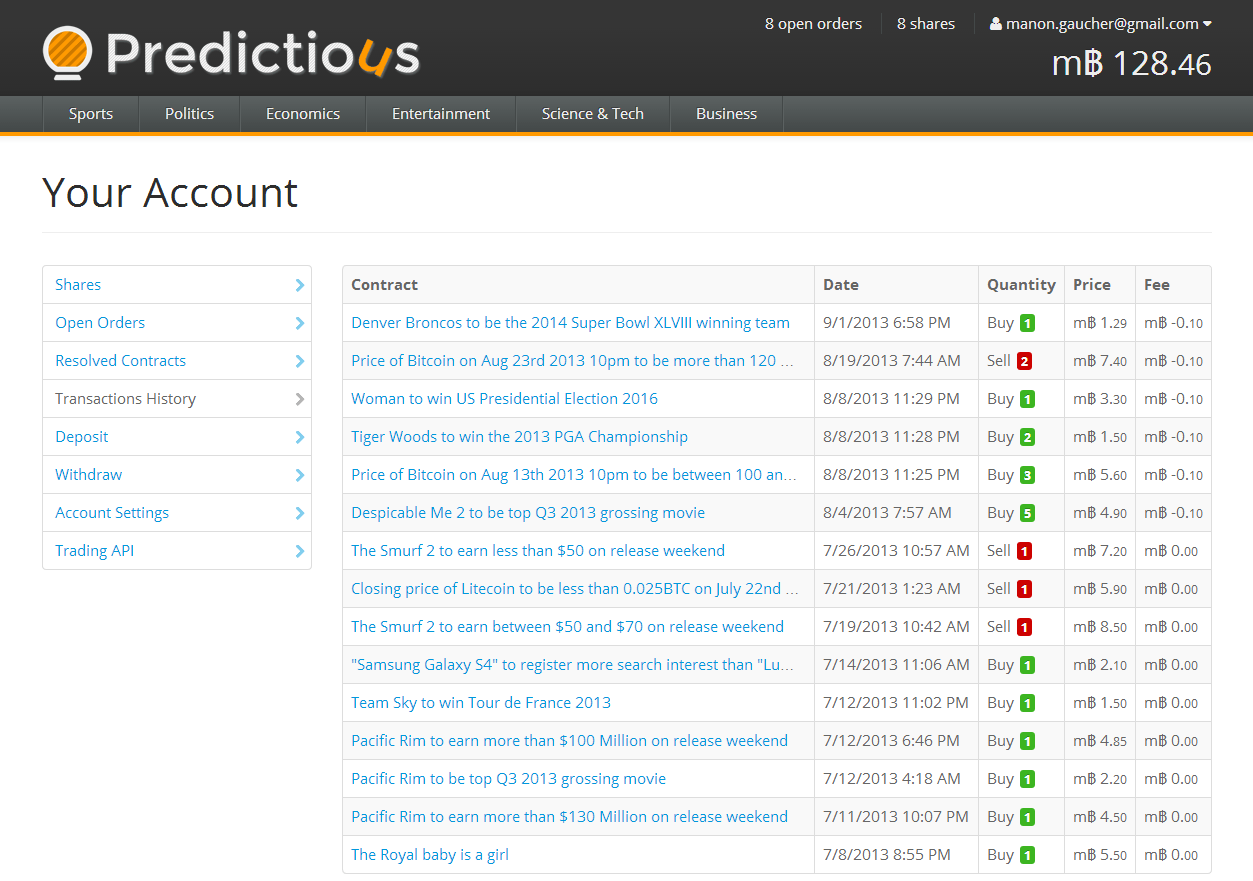 Various other interface improvements have been implemented. For instance, now users can display dates in their local time zone, and sort contracts in different orders.
The platform has added lots of new contracts since the launching, "with now over 300 contracts that can be each traded short or long". Among those, "there is a number of contracts on the price of Bitcoin, which are popular for hedging risks when buying Bitcoins". But Predictious is getting bigger on sports as well, with over 38 contracts just for the NFL season. "Odds on the Super Bowl are extremely competitive", assures the press release.
Finally, Predictious has also built a trading API and is "actively looking for market makers", offering a 20 percent discount on the fees to any market maker. Flavier Charion, founder of Pixode, says that, "in just two months, we've seen tremendous interest from former InTrade traders, some of them are even willing to start using Bitcoin just to try Predictious".