NOV. 14, 2014 – Bitcoin News – Hottest BTC Round Up!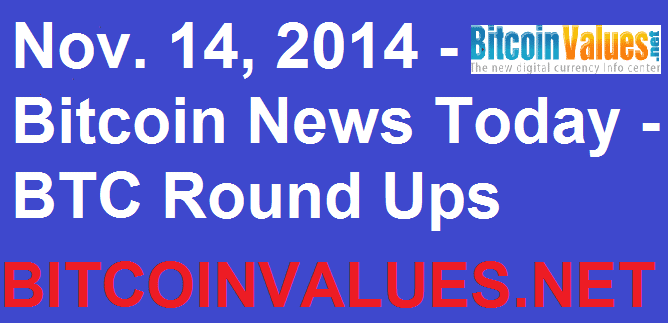 Single Bitcoin Price Will Reach $100,000 OR $1,000,000 Says Fund Manager
Raoul Pal, a former manager at Global Macro Investor Group insisted yesterday that a single bitcoin price could worth at least $100,000 or even $1 million dollars in a few years. He made the prediction by evaluating bitcoin vs gold prices over a one-year period. Pal has being saying that about bitcoin for a while now and reiterate his claim after bitcoin experience a spike earlier this week. READ FULL STORY!
Bitcoin Price Goes Over $400 Per Single Bitcoin
The world should be paying attention to bitcoin news because the price of bitcoins has surged past the $400 mark for the first time since September and briefly in mid-October. This is significant bitcoin news because the price has been steadily climbing and dropping in the mid 300's and even low as $319 on October 5.
ALSO READ: What's Driving Bitcoin Price Today? Is Bitcoin Mining Illegal?
It may be impossible to pin point the exact cause of this surge but many suspect that it may be in relation to the crackdown of black markets. This bitcoin news has people optimistic and cautious but this surge in the price of Bitcoin could sustain over the next month or it could be short lived. READ FULL STORY!
BTC Entrepreneur Successfully Inserted Bitcoin Wallet Under His Skin
This has to be one of the most intriguing and top bitcoin news stories to date. Yes, you are reading the heading correctly. An enthusiast and entrepreneur known as Martijn Wismeijer (aka: 'Mr. Bitcoin') had two chips called NFC (near field communication) injected in the back of his hands. He is quoted as saying, "As long as you can export your private key, you can write that into your hands." He will not be using them long term and stressed that they are a safe and viable option for regular people as well.
The chip itself is about 2x12mm and can be compared to a pet microchip. This bitcoin news is like a futuristic design that is sure to raise some eyebrows. Amal Graafstra is the engineer behind this biohacking implant and it is said that more uses will become available as they experiment with bigger implants with more memory. This article of is worthy of being in the top stories of bitcoin news. READ FULL STORY!