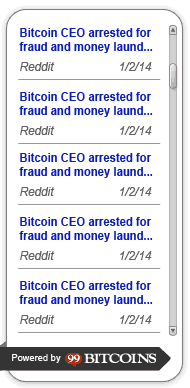 Bitcoin News Ticker Widget Plugin for WordPress. This plugin will allow you to display a news ticker widget on your website with the latest Bitcoin news. The plugin is 100% free and here are it's features:
Display an endless feed of updated Bitcoin news stories.
Bitcoin news feed is updated daily.
All Bitcoin news stories are manually picked so only quality content is shown.
All links on the widget (including footer link) are "nofollow", so no need to worry about SEO issues.
If you'd like to install the Bitcoin News Ticker Widget Plugin on your website here's what you should do:
Download the latest version of the plugin directly from the official WordPress.org plugin directory.
Log in to your WordPress dashboard and go to Plugins -> Add New
Select "Upload" for the top tab.
Select "choose file" and select the Zip file of the plugin you downloaded.
Once the plugin is installed select "Activate plugin".
Go to Appearance -> Widgets
Drag the widget named "Bitcoin News Widget" to your side bar.
How to Uninstall/Deactivate the plugin
Log in to your WordPress dashboard and go to Plugins -> Installed plugins
Find the "Bitcoin News Widget" plugin and click "deactivate".
After the plugin is deactivated click "delete".
Confirm that you want to delete the plugin.
In case you are having any issues with plugin or want to request any modifications please email me here.
Bitcoin Video Crash Course
Dummy-proof explainer videos enjoyed by over 100,000 students. One email a day for 7 days, short and educational, guaranteed.
We hate spam as much as you do. You can unsubscribe with one click.