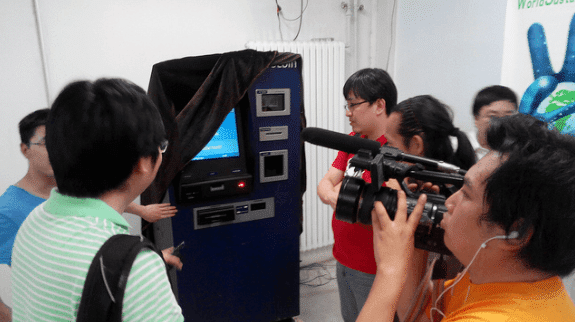 Bitcon in China – the Chinese goverment's effort to discredit bitcoin or ban it completely just took a hit. Las Vegas-based online bitcoin banking provider and ATM manufacturer behind a long line of bitcoin ATMs around the world Robocoin installed the first bitcoin ATM in Beijing's Satoshi Plaza today!. The Bitcoin ATM is 1,000-square-meter. According to a news report out of Robocoin, Chinese bitcoin customers can buy and sell bitcoins at the bitcoin ATM 27/7 and 365. Robocoin CEO Jordan Kelly had this message for bitcoin consumers in China:
"Our Chinese partners have gone through great lengths to provide Bitcoin enthusiasts and newcomers the easiest and fastest access to bitcoin in the most compliant way. We seek to meet all regulatory requirements and hope that we can continue to prosper in China."
Bitcoin in China – First Bitcoin ATM by Robocoin
This is a milestone for Robocoin for putting this ATM and bitcoin in China because of the number of issues they faced entering the Chinese bitcoin market due to virtual currency regulations particularly aimed at crippling the virtual currency before it plants in foot in the largest market in the world; Asia. Before this first bitcoin ATM in China, the goverment in Taiwanese released documents stating that installation of bitcoin ATMs would require approval from the country's Financial Supervisory Commission. We don't know if Robocoin met the requirements, but we are glad to report that the first Chinese bitcoin ATM is fully alive and operational!
Check out a list of Bitcoin ATM locations by countries, states, cities. If you know of any bitcoin ATMs not listed on the list, be sure to contact us with the locations, ownership and manufacturer details and we'll add them to the list. It will also help if you can send us photos of the bitcoin ATM(s). Are you in China? Have you used bitcoin in China? If so, let us hear from you!
Source: coindesk