A new study about digital payment trends revealed that cryptocurrency is part of the long-term strategies of 60 percent of United States-based businesses and organizations.
The report Security & Compliance Trends in Innovative Electronic Payments – released by the Ponemon Institute and commissioned by the electronic giant HP – polled 634 United States residents. Most of the participants work in IT operations, security and technology deployment. They are also "familiar with and involved" in their organisations' electronic payments current practices and future stategies.
After interviewing these tech-savvy participants, the study not only discovered that three out of every five institutions plan to support Bitcoin and other digital currencies, but also that 80 percent of the sample believes cryptocurrency will overtake fiat currency in the future.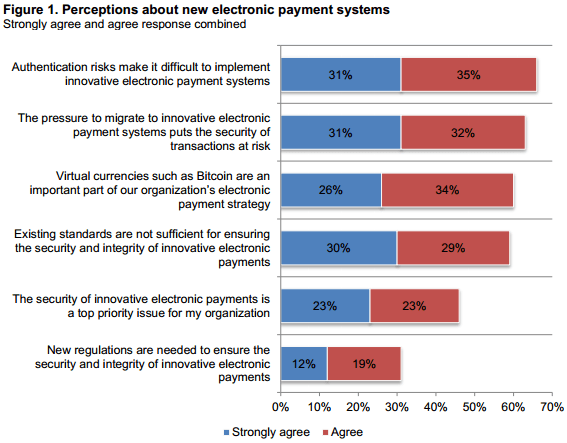 For now, the number of companies already supporting digital currencies is limited, with only 14 percent of respondents revealing their organisations support virtual coins at the moment. Nevertheless, 11 percent of the participants admitted they plan to integrate support over the next six months. Nine percent plan to do so over the next year.
The majority of the respondents – 45 percent – said their organizations will wait more than a year before adopting digital currency. On the other side, 21 percent said there were no plans for support.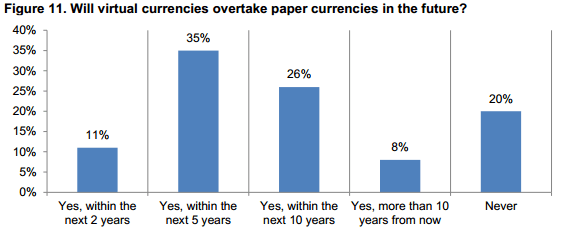 On a similar note, most of the respondents are huge fans of digital wallets: 24 percent confirmed they would adopt digital wallets by 2016, while 56 percent said they would do so over a five to ten year period.
The report, which also focuses on other topics such as wireless standards like Near Field Communication and services like Apple Pay and Google Wallet, shows that although most US companies are interested in digital currencies, safety and compliance are still two major concerns.
Security is still the biggest barrier when it comes to Bitcoin adoption, the report reveals. But most participants agree that the widespread use of cryptocurrencies is "inevitable" due to the growing adoption of this technology.
Overall, the study shows that US companies see digital money as a technology with a lot of potential and expect to see Bitcoin and other digital coins overtaking fiat currency in five to ten years. Only 20 percent of the participants don't believe in this possibility.
Images source: Ponemon Institute