Bitcoin just got a little cozier with social media, and now it's easier than ever to send digital currency to friends and family that have no prior knowledge of cryptocurrency.
San Francisco-based QuickCoin has developed a simple web app that lets users connect with Facebook and send Bitcoin to anyone on their friends list. The app is smooth, mobile-optimized and specifically tailored for people familiar with the social network.
There have been previous attempts at integrating Bitcoin payments with Facebook, but QuickCoin's product is the first to make the process outright simple, with no requirement to know how QR codes or public keys work. It's as simple to send Bitcoin as it is to post on someone's wall or message them.
How It Works
Setting up the QuickCoin wallet is fast, simply requiring a Facebook login and permission to access the friends list. The web app then brings up a searchable list of friends with a green "Send" icon next to each name.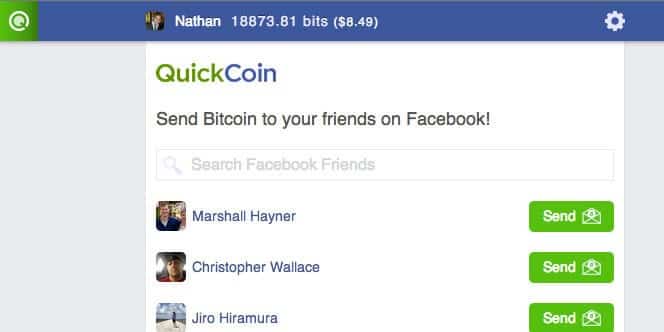 The  wallet is denoted in both dollars and the equivalent amount of "bits" — a unit of account created by QuickCoin, in which 1 bit = 0.000001 BTC = $0.00058 at the current exchange rate. Using this scheme, 1000 bits — which I've been sending to several of my own Facebook friends — is worth about 58 cents.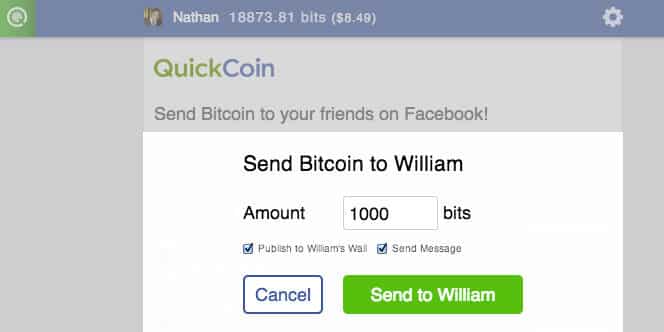 Once a transaction is made, the sender can post on the friend's wall or send a private message notifying them that they received Bitcoins. They can then login to the QuickCoin wallet themselves and withdraw the funds, or send money to someone else on Facebook. The deposit and withdrawal system is very fast and doesn't require waiting for confirmations.
Currently QuickCoin shaves 0.0001 BTC (100 bits, or 5 cents) off the top of every transaction with a Facebook friend, in order to pay the standard miner fees that Bitcoin users are familiar with. All of the transactions are made on-blockchain, meaning that QuickCoin made the wise decision of not pooling the funds into an internal system that can be compromised. The social wallet is built as a thin layer on top of the already-robust Bitcoin payments protocol.
Evolving the Ecosystem
QuickCoin's simple Facebook wallet is a sign of Bitcoin's growing maturity and integration with existing systems. Instead of waiting for a company like Facebook to integrate digital currency into its social network, ambitious entrepreneurs are building the cross-platform compatibility on their own.
Previously, Bitcoin has been integrated with other social networks through tools like the Bitcoin Tip Bot on Reddit, and the TipperCoin account on Twitter. However, until now there wasn't a good tool for sending coins over Facebook, the most popular social network.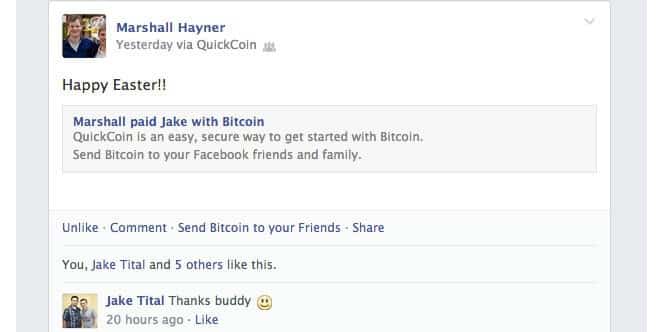 As the Bitcoin ecosystem continues to evolve, there will undoubtedly be further attempts to integrate the digital currency with social networks and make the experience as streamlined as possible. Perhaps at some point it will be as easy to "tip" a Facebook friend with Bitcoin as it is to click "Like" on their status.
QuickCoin has promised that the Facebook social wallet is only their first product, and more features and partnerships are coming soon.