Wirex Review
By: Alex Miguel | Last updated: 1/25/23
Wirex is a crypto payments platform which provides a crypto and fiat currency wallet, as well as its famous crypto-loaded debit cards. Customers can spend their crypto balance at Visa-friendly merchants around the world, with payments automatically converted to the required fiat at the point of sale.
Wirex Review Summary
Wirex is a useful platform to use if you want to manage and swap your crypto and fiat currency, all in one place. Its crypto-linked debit card is also great for travelling and spending your crypto balance without converting it to fiat. While being a feature packed one-stop-shop for crypto payments, it's not advisable to risk large sums of money on Wirex, due to a somewhat slow support and mixed reviews of their service.
That's Wirex in a Nutshell. Continue reading below for a more detailed review of Wirex's platform and services. Here's what I'll be covering:
---
1. Wirex Overview
Wirex was founded in 2014 in London, England, by Dmitry Lazarichev, Georgy Sokolov, Pavel Matveev. Lazarichev is a prolific entrepreneur with a long history in finance, while the other two founders have less of an online presence.
The company was originally named "E-Coin", later re-branding to Wirex, the name most of us are familiar with today. Despite being founded in England, physical offices for Wirex are now based in Singapore.
Wirex has had a total of $7.9M in funding, including a $3 million Series-A raise in March 2017, led by SBI Group.
---
2. Wirex Services
Accounts
Wirex's most widely-available service is its multi-currency accounts. These allow users to buy, store and exchange both cryptocurrency and traditional fiat currency, within a single wallet.
Users can manage all of their account funds through a mobile app, which is available on iOS and Android. This includes funding their account using a debit or credit card, as well as swapping between supported currencies using the built-in exchange.
For security, Wirex claims that funds are held in cold-storage accounts with multi-signature access. Users can also set up two-factor authentication to protect their accounts.
Last, users can keep track of their spending and budget using in-app alerts for each of account they have.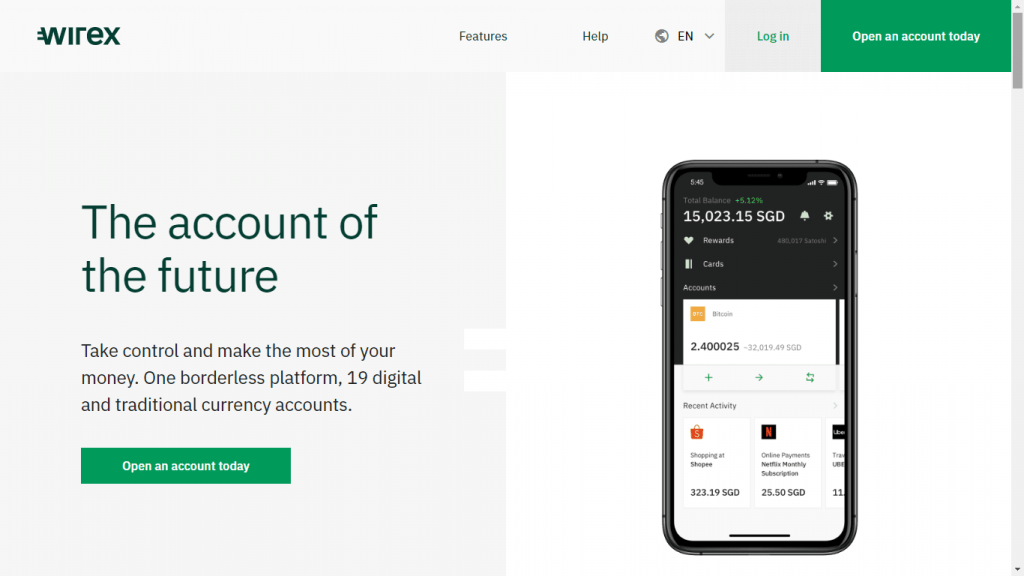 Card
The flagship service of the Wirex platform is its crypto-backed debit card. Users in supported areas can order a physical debit card which allows them to spend the funds they hold in their Wirex wallet, at any one of several million Visa merchants around the globe.
When a purchase is made, Wirex automatically converts a user's cryptocurrency to the fiat currency required by the merchant. This feature essentially allows users to hold and indirectly spend their cryptocurrency, rather than having to manually sell their holdings for fiat.
According to Wirex, over 150 currencies are supported by the card, which allows the user to avoid unnecessary bank charges and fees when making payments overseas, such as foreign ATM charges.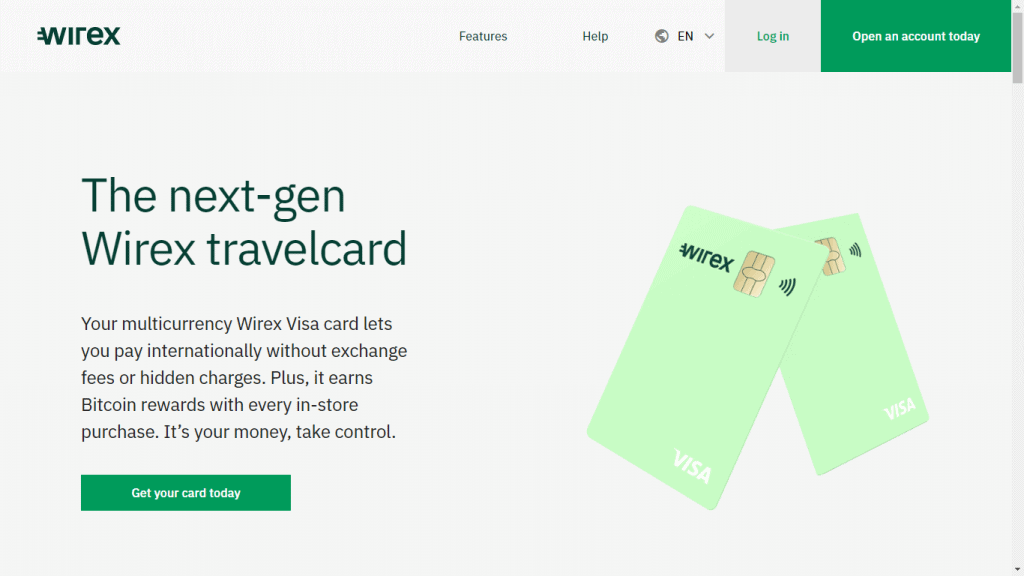 Rewards
Purchases made using the Wirex debit card are also eligible for "Cryptoback" rewards, which are paid out in Bitcoin – similar to the concept of traditional cashback rewards, but in this case paid in crypto.
Users can earn up to 1.5% of their spend back in Bitcoin, depending on their balance of WXT, their native Wirex Token, which is covered in the next section.
Further rewards are available through their referral program, which pays up to $10 worth of Bitcoin for each person you successfully direct to the Wirex platform.
Token
Wirex has its very own platform token, the Wirex Token (WXT).
WXT entitles users to several benefits across the platform, including reduced fees, exclusive offers from merchants, and increased rewards. As mentioned above, larger holders of Wirex receive greater Cryptoback rewards when they use their Wirex debit card.
The token can be purchased directly through the app, or on the open market from several cryptocurrency exchanges.
---
3. Currencies and Payment Methods
Wirex accounts support a total of 19+ cryptocurrencies and fiat currencies, depending on your area of residence. These include:
Crypto:
Bitcoin (BTC)
Litecoin (LTC)
Ripple (XRP)
Ether (ETH)
Waves (WAVES)
WOLLO (WLO)
Dai (DAI)
Nano (NANO)
Stellar (XLM)
Wirex Token (WXT)
Fiat currencies:
Australian dollar (AUD)
Canadian dollar (CAD)
Euro (EUR)
Swiss franc (CHF)
Czech koruna (CZK)
British pound (GBP)
Hong Kong dollar (HKD)
Japanese yen (JPY)
Maxican peso (MXN)
Singapore dollar (SGD)
US dollar (USD)
New Zealand dollar (NZD)
A more specific list of currencies available to customers from each region can be viewed here on the Wirex website.
---
4. Fees and Limits
Fees
Just like the case with available currencies, Wirex fees and limits are also specific to the user's country of residence.
Wirex debit card issuance and delivery are free of charge, however in some cases DHL Express charges may apply for customers in the Asia-Pacific (APAC) region. For users in the European Economic Area, a monthly card maintenance fee of around €1.20 applies (free in APAC).
When funding your Wirex account with crypto using a debit or credit card, a 1% fee applies. You'll also want to look out for the exchange rate applied by Wirex on these purchases. Topping up your account with any other method (depositing both crypto and fiat currency) is free.
Fiat and crypto withdrawals are also free, with the exception of SWIFT withdrawals, which carry a fee of 13 EUR for euros, 12 GBP for pounds, or 15 USD for most other fiat currencies.
Exchange fees between fiat currencies are free, while crypto exchange services are subject to their own exchange rates and commission fees. You may want to double-check the quoted conversion rates and fees before making a trade.
It should also be noted that SEPA, Faster Payments and SWIFT deposits and withdrawals are not available for the APAC region. If you're in the APAC area you can only fund your account directly with crypto, or make a debit/credit card top-up.
There are no account maintenance fees with Wirex, regardless of your region.
Limits
Users will only be able to top-up their account with 50 USD without confirming their identity, which is quite low. In contrast, confirmed users can top-up up to 5,000 USD. The spend limit per transaction is 5,000 SGD, while ATM withdrawals are capped at 400 SGD per day.
There is no limit to how much you can deposit into your Wirex accounts using other methods such as bank transfer payments or crypto deposits. There IS a limit on how much crypto you can withdraw, however, which is 10,000 USD per transaction and 50,000 USD per day.
Fiat withdrawal limits are not specified on the Wirex website.
---
5. Supported Countries
Wirex Debit Card
The Wirex card is only available to the following countries:
Austria, Belgium, Bulgaria, Croatia, Cyprus, Czech Republic, Denmark, Estonia, Finland, France, Germany, Greece, Hungary, Iceland, Ireland, Italy, Latvia, Lithuania, Luxembourg, Malta, Netherlands, Norway, Poland, Portugal, Romania, Singapore, Slovakia, Slovenia, Spain, Sweden, United Kingdom.
Wirex Accounts Only
Wirex accounts and the built-in exchange service are much more widely available, catering to all of the following countries:
Albania, Algeria, American Samoa, Andorra, Anguilla, Antigua and Barbuda, Argentina, Armenia, Aruba, Australia, Austria, Bahrain, Bangladesh, Barbados, Belgium, Belize, Benin, Bermuda, Bhutan, Bolivia, Plurinational State of, Bonaire, Sint Eustatius and Saba, Bosnia and Herzegovina, Bouvet Island, Brazil, British Indian Ocean Territory, Brunei Darussalam, Bulgaria, Burkina Faso, Cambodia, Cameroon, Canada, Cape Verde, Cayman Islands, Chad, Chile, Christmas Island, Cocos (Keeling) Islands, Colombia, Comoros, Cook Islands, Costa Rica, Côte d'Ivoire, Croatia, Curaçao, Cyprus, Czech Republic, Denmark, Djibouti, Dominica, Dominican Republic, Ecuador, El Salvador, Estonia, Falkland Islands (Malvinas), Faroe Islands, Fiji, Finland, France, French Guiana, French Polynesia, French Southern Territories, Gabon, Gambia, Georgia, Germany, Gibraltar, Greece, Greenland, Grenada, Guadeloupe, Guam, Guatemala, Guernsey, Guyana, Heard Island and McDonald Islands, Holy See (Vatican City State), Honduras, Hong Kong, Hungary, Iceland, India, Indonesia, Ireland, Isle of Man, Israel, Italy, Jamaica, Jersey, Jordan, Kazakhstan, Kenya, Kiribati, Korea, Republic of, Kuwait, Kyrgyzstan, Lao People's Democratic Republic, Latvia, Lesotho, Liberia, Liechtenstein, Lithuania, Luxembourg, Macedonia, the Former Yugoslav Republic of, Madagascar, Malawi, Malaysia, Maldives, Mali, Malta, Marshall Islands, Martinique, Mauritania, Mauritius, Mayotte, Mexico, Micronesia, Federated States of, Moldova, Republic of, Monaco, Mongolia, Montenegro, Montserrat, Morocco, Mozambique, Namibia, Nauru, Nepal, Netherlands, New Caledonia, New Zealand, Nicaragua, Niger, Nigeria, Niue, Norfolk Island, Northern Mariana Islands, Norway, Oman, Palau, Panama, Papua New Guinea, Paraguay, Peru, Philippines, Pitcairn, Poland, Portugal, Puerto Rico, Qatar, Réunion, Romania, Russian Federation, Rwanda, Saint Barthélemy, Saint Helena, Ascension and Tristan da Cunha, Saint Kitts and Nevis, Saint Lucia, Saint Martin (French part), Saint Pierre and Miquelon, Saint Vincent and the Grenadines, Samoa, San Marino, Sao Tome and Principe, Senegal, Seychelles, Singapore, Sint Maarten (Dutch part), Slovakia, Slovenia, Solomon Islands, South Africa, South Georgia and the South Sandwich Islands, Spain, Suriname, Svalbard and Jan Mayen, Swaziland, Sweden, Switzerland, Taiwan, Province of China, Tajikistan, Tanzania, United Republic of, Thailand, Timor-Leste, Togo, Tokelau, Tonga, Turkey, Turkmenistan, Turks and Caicos Islands, Tuvalu, Ukraine, United Arab Emirates, United Kingdom, United States Minor Outlying Islands, Uruguay, Uzbekistan, Vietnam, Virgin Islands, British, Virgin Islands, U.S., Wallis and Futuna, Western Sahara, Zambia
A full list of countries and permitted services can be viewed here.
---
6. Customer Support and Reviews
Like many other major platforms, Wirex has a handy FAQ section which answers most basic user enquiries. There's also a community forum on its website, which contains a bunch of discussion among Wirex users, as well as occasional input from a staff member.
Getting active help to resolve issues within the platform, on the other hand, appears to be a little more difficult. The only way to bring issues directly to the customer support team is to submit a support ticket, to which you should receive a reply via email.
Users across several review websites and forums seem to have plenty of issues with this method, with many disgruntled customers claiming to not receive timely replies – or in some cases, any replies at all.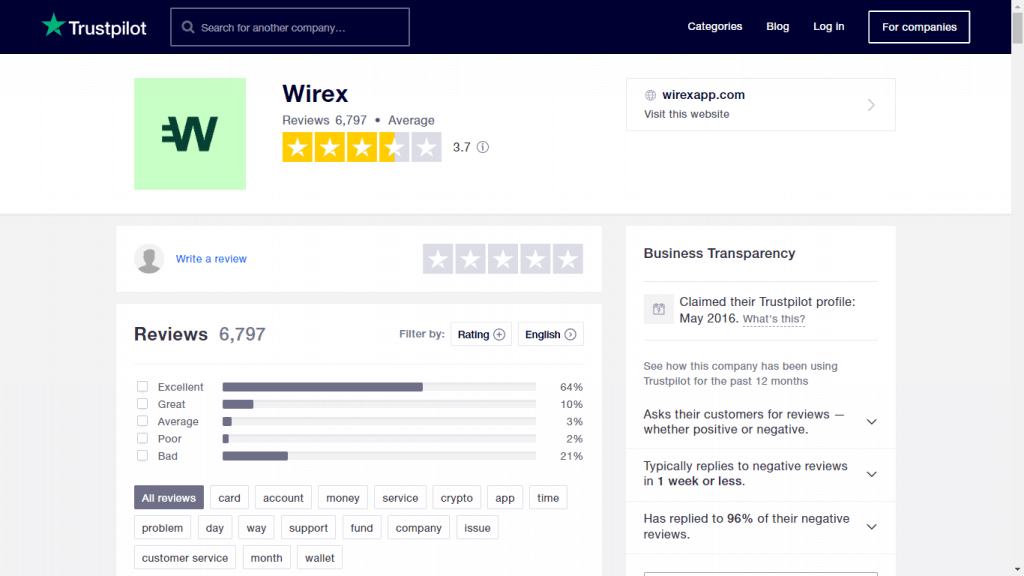 Additionally, seems like a good deal of Wirex's bad reviews on different platforms are about users getting locked out of their accounts and losing access to their deposits. This can become really frustrating when combined with the somewhat slow response time of Wirex's support.
---
7. Conclusion
Wirex has a really useful service which allows users to store, manage and swap between several cryptocurrencies and traditional fiat currencies, within a single platform. The ability to spend your crypto balance across the world with "no fees" Wriex's is also a really neat feature.
On the downside – support is a bit lacking with slow response time, which can be especially frustrating for quite a few Wirex users who found themselves locked out of their accounts. There are also several complaints from users who realized that they were charged fees for Wirex services, despite the platform claiming that they are mostly fee-less. This includes charges such as the maintenance fee, which is only seen upon closer inspection of the fee schedule.
As useful as Wirex's services may be, I would only recommend using their services for small amounts of money, at least for the near future.
That's it! If you have any comments or your own experience with Wirex, please share it in the comments section below.