SpectroCoin Review
By: Alex Miguel | Last updated: 01/27/21
SpectroCoin is a global cryptocurrency exchange which also offers many cool features such as its own debit card. In this post, I'll review the SpectroCoin exchange, along with its services, fees and more.
SpectroCoin Review Summary
SpectroCoin is an all-in-one crypto currency exchange, which also has several extra features including a wallet, debit card and crypto-backed loans. Although it doesn't have great trading volume or the best pricing, it boasts an excellent track record for customer service and ease of use.
That's SpectroCoin in a nutshell. If you want a more detailed review keep on reading, here's what I'll cover:
---
1. SpectroCoin Overview
SpectroCoin is a cryptocurrency exchange based in Lithuania, which was founded in 2013. The company started with the intent of providing an entire suite of cryptocurrency-focused services and has accomplished just that.
The platform is a product of Bankera, an ICO-funded project which aimed to provide blockchain-based financial services. Another Bankera project, Bankera Loans, was rebranded to become part of the SpectroCoin platform.
Over the years, SpectroCoin has evolved from a Bitcoin-only merchant and wallet service provider to become a multi-cryptocurrency exchange, wallet, loan provider and more.
SpectroCoin reached a milestone of 1 million customers in mid-2019, cementing themselves as a major cryptocurrency service platform.
---
2. SpectroCoin Services
Instant buying and selling
Like many major cryptocurrency exchanges, SpectroCoin has an instant buying and selling service, which streamlines the process for those who don't care for placing limit orders or looking at charts.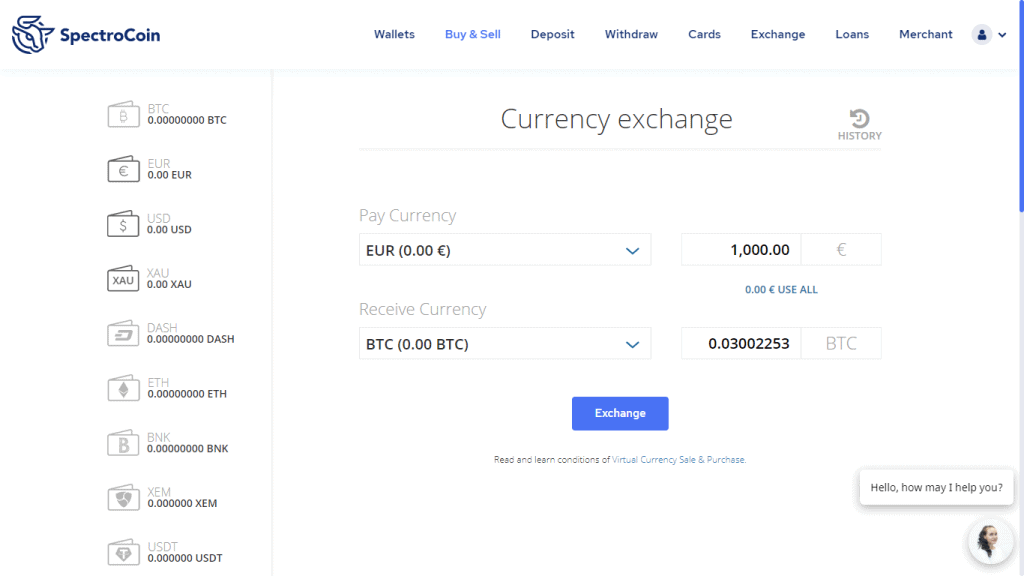 Users can swap directly between any of the supported currencies on the site, including fiat currencies, with a few clicks of a button.
The exchange rate you get is variable and can be poorer in times of volatility, so you'll want to make sure you double-check the rate before you execute a trade.
Exchange
Of course, there is also a full-featured trading platform for more advanced traders, which features Tradingview candlestick charts, an orderbook, and both limit and market order types.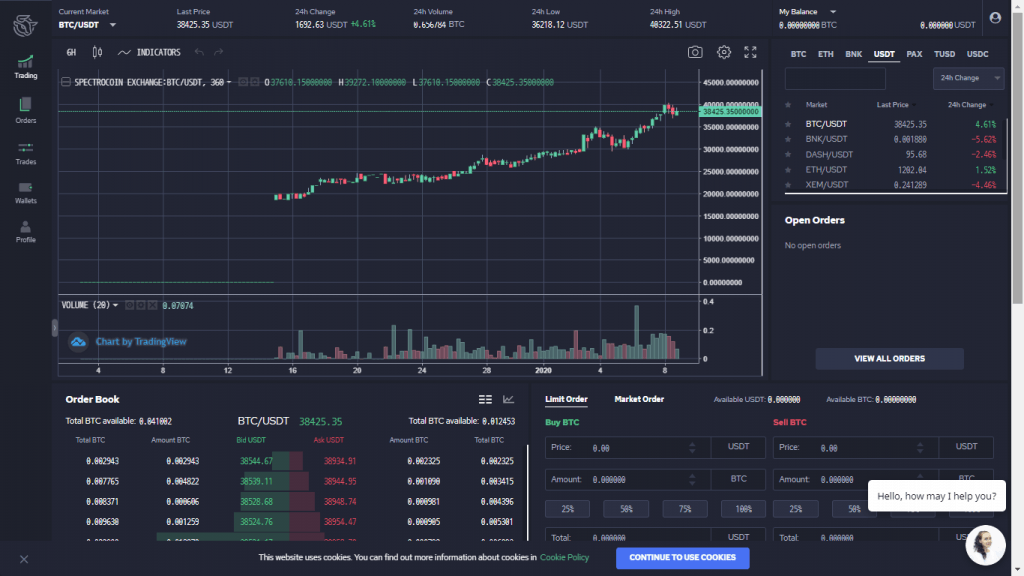 The theme is dark and night-time friendly by default, which is nice and easy on the eyes.
Trading pairs based in BTC, ETH, BNK and several stablecoins are available. Unfortunately, it doesn't look like the exchange has much volume or liquidity.
Wallet Mobile app
SpectroCoin has its very own mobile app wallet, which also provides users access to the instant buy/sell and debit card features.
Users can store and manage their exchange holdings in the wallet at any time, on the go.
Debit card
SpectroCoin offers its very own cryptocurrency debit card, which can be used to spend your cryptocurrency balance with any Visa-friendly merchant. 
Upon closer inspection, however, it appears that users must manually convert their balance to euros before making a purchase using the app or web interface.
At the time of writing, the SpectroCoin debit card is only available to citizens and permanent residents of the European Economic Area (EEA).
Crypto-backed Loans
The platform also allows users to borrow euros or other cryptocurrencies, using their account balance as collateral.
Users can borrow as little as 25 EUR or as high as 1 million EUR, with variable loan-to-value ratios and flexible repayments. Interest rates are lowered when paying the Bankera (BNK) token.
Personal dedicated IBAN 
Last but not least, SpectroCoin users can also get a dedicated international bank account number (IBAN) in their own name, to more easily make deposits and withdrawals to and from their exchange account.
---
3. Currencies and Payment Methods
For fiat currencies, SpectroCoin accepts EUR, USD and GBP. 
Available methods for funding your account include debit or credit card, VPAY, SEPA, Neteller, Skrill, Payeer and Perfect Money.
Cryptocurrencies supported by the platform include:
Bitcoin (BTC)

Ethereum (ETH)

Bankera (BNK)

Dash (DASH)

Ripple (XRP)

Stellar (XLM)

Litecoin (LTC)

Zcash (ZEC)

Nem (XEM)

Tether (USDT)

True USD (TUSDT)

USD Coin (USDC)

Paxos Standard (PAX)
SpectroCoin also allows users to trade gold, however how this works is not made very clear – you can read about it here.
---
4. SpectroCoin Fees  and Limits
Crypto Exchange Trading Fees
Trading fees on SpectroCoin are split into maker fees (which add liquidity to the orderbook) and taker fees (which remove liquidity from the orderbook).
Maker fees are -0.05% across most markets, which actually translates to a rebate – maker orders earn 0.05% when they are filled. Taker fees, on the other hand, are charged 0.1% across most markets.
The only markets on SpectroCoin where the above rates do not apply are on Bankera (BNK) token markets, which have no trading fees.
Instant Exchange Trading Fees
There are no "fees" when using the instant exchange, which also accepts fiat currency trades. Users should, however, pay special attention to the exchange rate quoted on each trade, as this can often be less favorable than market exchange rates.
Deposit and Withdrawal Fees (Fiat)
Fiat currency deposits are 5.50% for all currencies and payment methods, except for SEPA (free), Skrill (8.50%), Payeer (5.00%) and Perfect Money (7.00%).
Fiat withdrawals are free for SEPA transfers, while Skrill withdrawals are charged 2.00%, Payeer withdrawals are charged 5.00% and Perfect Money withdrawals are charged 1.00%.
Deposit and Withdrawal Fees (Crypto)
Deposit fees are free for all cryptocurrencies except  XRP, XLM, LTC and ZEC, which carry a 0.15% deposit fee.
Cryptocurrency withdrawal fees also apply, appearing to simply cover blockchain transaction costs. These are $1 for stablecoin withdrawals, 0.0005 BTC for Bitcoin, 0.005 ETH for Ether, 0.1 XEM for Nem, and 1000 BNK for Bankera, and 0.15% for XRP, XLM, LTC and ZEC.
Withdrawals from SpectroCoin to the SpectroCoin Exchange are all free.
Deposit and Withdrawal Limits
All payment methods carry a minimum deposit amount of €1 and a maximum of €2,000 to €4,000 per deposit, except for SEPA transfers (€100,000 maximum).
Visa and Mastercard methods have a monthly limit of €10,000, while other methods are limited to €15,000 to €30,000. SEPA transfers appear to have no monthly limit.
There are no stated maximums for cryptocurrency deposits and withdrawals.
---
5. Supported Countries
SpectroCoin serves users in the majority of countries around the world, with very few exceptions. Its supported countries page shows each supported country, as well as which payment methods and cryptocurrencies are accessible in that area.
Countries not supported by Spectrocoin include the Democratic People's Republic of Korea (North Korea), Iran, Japan, or any other country under United Nations sanctions.
---
6. Customer Support and Reviews
Personally, I had a very good experience with customer support on SpectroCoin, using the live chat box. My query was answered promptly, with friendly and accurate service. 
Aside from live chat assistance, there is also an FAQ section on the website which caters to more general enquiries. 
As for online reviews, SpectroCoin has an amazing track record, including an "Excellent" score on Trustpilot – almost unheard of for cryptocurrency exchanges. Many of these positive reviews talk about the great customer support and resolution of user issues, with almost all customers leaving very happy.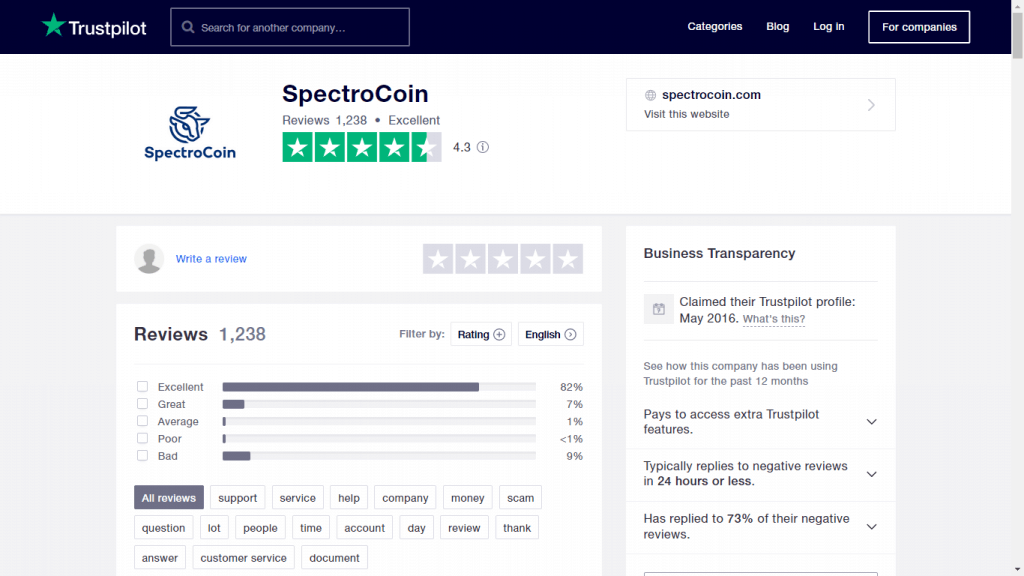 Any bad reviews appear to stem from rigorous know-your-customer (KYC) processes. These appear to have often resulted in people having to resubmit different documents several times, or having their funds frozen because they could not prove their identity.
---
7. Frequently Asked Questions
Does SpectroCoin support fiat deposits and withdrawals?
Yes, SpectroCoin supports deposits and withdrawals for EUR, USD and GBP. Deposit methods include everything from debit and credit cards to SEPA, Neteller, Skrill, Payeer and Perfect Money payments. 
Withdrawals can be made in EUR and USD using Skrill, Payeer, Perfect Money and SEPA (EUR only).
How do you buy Bitcoins on SpectroCoin?
Sign up to SpectroCoin

Complete the KYC verification process

Deposit funds into your account using any one of the supported deposit methods

Convert your newly deposited funds to Bitcoin using the instant buy/sell feature

Withdraw the Bitcoins to your own wallet
Is SpectroCoin a wallet or an exchange?
SpectroCoin provides both wallet and exchange services. Transferring cryptocurrency between your SpectroCoin wallet and SpectroCoin exchange account is free.
---
8. Conclusion: Is SpectroCoin a Good Exchange?
SpectroCoin appears to be a very reliable and customer service-focused platform, which has an excellent track record for providing its their customers with great service and guidance – something I've been able to confirm first-hand.
Funding your SpectroCoin account is easy to do from almost anywhere in the world, making it a convenient and safe option for many.
The exchange itself, however, doesn't appear to have much trading volume or liquidity. The instant buy/sell feature doesn't seem to provide the best prices either, especially in times of market volatility.
On the other hand, there are plenty of additional features that would come in handy, in particular the debit card and crypto-backed cash loans.
Overall, SpectroCoin is a safe, user-friendly and highly-accessible platform for users around the globe, if your willing to pay its relatively high fees and market premiums.