MXC Review and Comparison Guide
By: Alex Miguel | Last updated: 6/4/21
MXC is a crypto exchange well-known for being the first centralized platform to support new and promising projects, before the rest of the market. In this review, I'll cover some of the main things you'll want to know before signing up.
MXC Review Summary
MXC is a great platform for trading new and promising coins and tokens, however it can be a little difficult to navigate due to some poor English translations. Despite this, MXC is jam-packed with features and assets to choose from, and offers helpful email support.
That's MXC in a nutshell. For a more detailed review, continue reading below. Here's what I'll cover:
---
1. MXC Overview
MXC was founded in April 2018 by Metin Mehmet Durgun, with other core team members having experience in finance.
The platform has applied for compliance licenses in Switzerland, Canada, Australia, and the United States, however it is unclear how many of these have been granted.
MXC currently offers its platform in 9 different languages and caters to a wide range of cryptocurrencies, often recognized for being an early integrator of new and exciting assets.
---
2. MXC Services
Exchange
MXC has a familiar exchange interface, which includes all of the typical features, including a candlestick chart, asset selection panel, orderbooks and order form.
Users can choose between a "standard" and "professional" interface, however these are extremely similar and seem to only vary in their layout on the page. There is no ultra-simplified interface as is seen on some exchanges.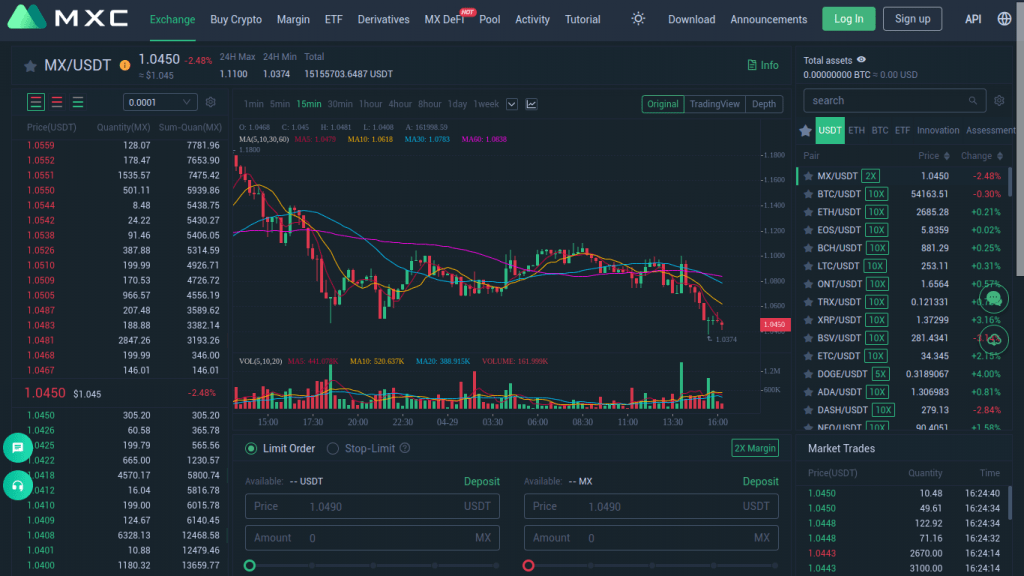 The exchange offers a nice range of USDT, ETH, BTC and leveraged token options.
Buy Crypto
The "Buy Crypto" tab on MXC shows all fiat currency options for the exchange, with none of these being facilitated by MXC itself. This includes a P2P trading feature and a "Credit Trading" feature.
The P2P feature facilitates direct trading between users, who can place bids and asks for a narrow range of major cryptocurrencies. Several fiat currencies and payment options are able to be selected, however it's important to remember that both parties must agree upon the exact payment method to be used.
On the other hand, the "Credit Trading" feature enables instant purchases of major cryptocurrencies using a credit or debit card. This feature is powered by well-known crypto payment processors such as Simplex and Moonpay.
Margin
MXC also offers margin trading with 5x to 10x leverage across most major trading pairs. Margin trading uses liquidity from the spot markets, with leveraged funds being borrowed at interest rates that are paid hourly.
Margin trading is done using isolated margin only, which means you will need to allocate funds to an individual trading pair when you wish to trade it. This limits risk to any single trading pair, rather than sharing risk across all pairs (which is known as "cross margin").
Derivatives
Like many other exchanges, MXC also has its own perpetual swap futures for many major cryptocurrencies. The majority of these swap contracts require USDT as collateral, however there are also two trading pairs collateralized with and settled in crypto (BTC and ETH).
Leverage of up to 125is available on Bitcoin and Ethereum swaps, while most other altcoins appear to be capped at 50x or 75x.
ETF
Another type of derivative that MXC offers is "Leveraged ETFs" – financial instruments which track the price of an underlying asset, but by multiples of the actual price changes. Behind each leveraged ETF is the backing of corresponding futures contract positions, in a fund which is managed by a financial team. These funds are typically rebalanced every 24 hours.
MX DeFi
MXC has a "yield-mining" feature that allows users to stake various cryptocurrencies in order to earn rewards in featured cryptocurrencies.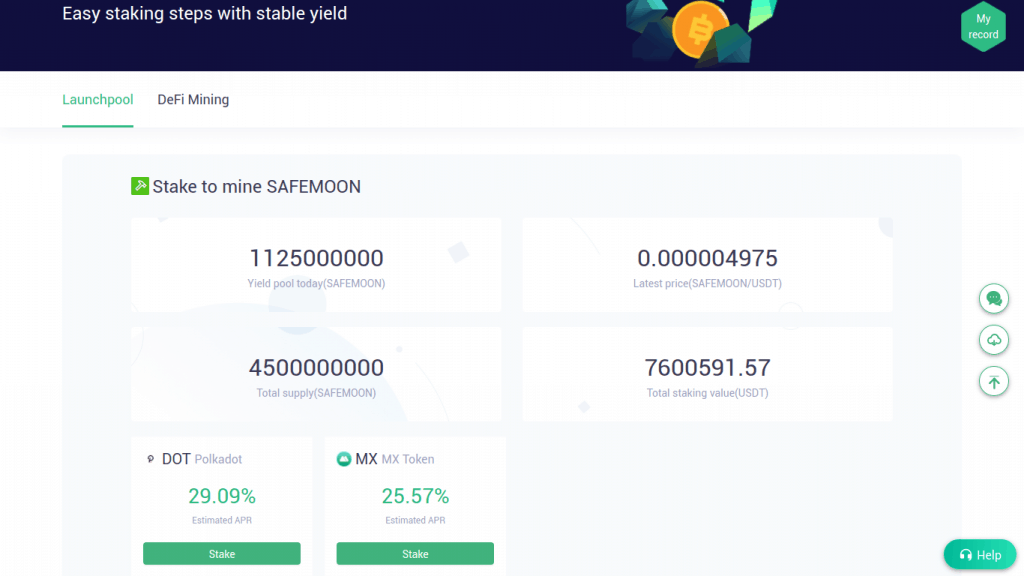 Here, for example, users can stake their DOT or MX Tokens to earn SAFEMOON.
There is also a "DeFi mining" section on the same page where users stake major assets to earn returns paid in the same currency that is staked, at just the click of a button.
Both features require a minimum locking period, so you will need to ensure that you will not need to access these assets before that minimum period is completed.
Pool
The Pool tab is very similar to the MX DeFi features, in the sense that users stake their assets to receive returns on their assets. The pool function has a "Stakings" and a "Holdings" option – Holdings is flexible and can be staked/unstaked at any time, while Stakings has a minimum lockup period. Interest is paid in the same asset that is staked.
Mobile App
MXC has its own mobile app which is available on both Android and iOS. The iOS requires manual installation and is not available via the Apple app store – contrary to the label shown on the MXC website. The Android app can be found on the Google Play store as "MEXC  Exchange", which might be a bit confusing, but nevertheless – it's there.
---
3. Currencies and Payment Methods
MXC only supports fiat currency via the P2P and Credit Trading (instant purchase) functions.
The P2P function supports options for a huge range of fiat currencies including USD, CNY, EUR, GBP and more. A huge range of payment options are also available, including bank transfer, Alipay, Advcash, Skrill and several others.
The instant purchase feature accepts bank cards, apple pay, google pay and samsung pay, which will cater to most users.
When it comes to cryptocurrencies, MXC supports a huge range of cryptocurrencies, including but not limited to:
MX Token (MX)
Bitcoin (BTC)
Ethereum (ETH)
Eos (EOS)
Bitcoin Cash (BCH)
Litecoin (LTC)
Ontology (ONT)
Tron (TRX)
Ripple (XRP)
Bitcoin SV (BSV)
Ethereum Classic (ETC)
Dogecoin (DOGE)
Cardano (ADA)
Dash (DASH)
Neo (NEO)
Chainlink (LINK)
Quantum (QTUM)
Polkadot (DOT)
VeChain (VET)
Stellar (XLM)
MXC is well-known for being the first centralized exchange to support many of the newest coins and tokens, making it an appealing option to those who wish to avoid expensive decentralized exchanges and gas fees.
---
4. Fees
Trading fees on MXC are charged at a flat rate of 0.2%. Deposits are entirely free, while withdrawal fees are specific to the transaction costs of the respective blockchain network.
Credit Trading (instant purchases using a bank card) is subject to the fees of the payment processor – these can typically reach up to 5% of the trade value.
Perpetual futures trading uses a tiered fee schedule, which can be found here. Fee discounts for these futures range from 5% to 30%, in proportion to a user's contract account balance or monthly trading volume.
---
5. Buying Limits
Limits on purchases of cryptocurrency with fiat currency are limited only by payment processors on the Credit Trading feature.
Simplex has a maximum daily limit of $20,000 and a monthly limit of $50,000. Moonpay has maximum limits of €10,000 daily and €50,000 monthly, but only with maximum verification. These limits are significantly lower with Apple Pay and Google Pay, at a maximum of €100 daily with no verification.
Limits on P2P trading are not clearly specified, however current offers appear to have a minimum limit of 2000 CNY and an upper limit of several hundred-thousand CNY.
USDT trading pairs have a maximum limit of $3 million on maker orders.
---
6. Supported Countries
MXC accepts users from the majority of countries around the world, with the exception of: North Korea, Cuba, Sudan, Syria, Iran, Yemen, Zimbabwe, Belarus, Myanmar, Lebanon, Libya, Bolivia, Ecuador, Bangladesh, Somalia, Iraq, Crimea, Congo, Central African Republic, Kyrgyzstan, the United States, and the U.S. Virgin Islands.
---
7. Customer Support and Reviews
Customer support on MXC begins with a typical FAQ section, which isn't quite as well-organized as those of other major exchanges. It can be a little tricky to find what you're looking for when using the search function on this page.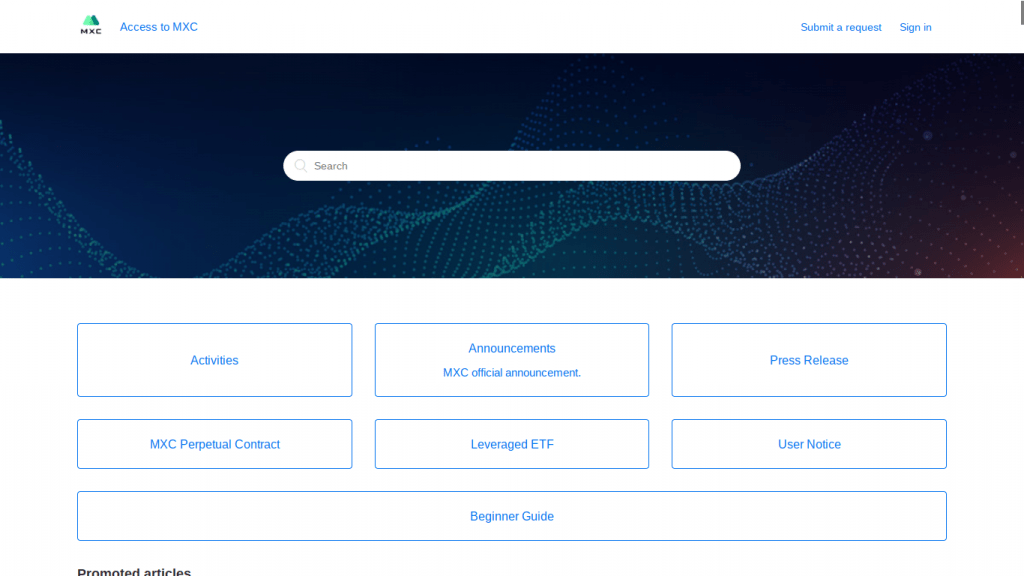 There is also a tutorial section which looks helpful at first glance, however the text steps are brief and some of the video guides are in Mandarin rather than English.
When it comes to getting one-on-one support, there's a chat support provided on the site itself, as well as an option to email MXC directly using the customer service email address at the bottom of the exchange page. The English telegram channel and the mobile app support option are 2 other options you can use, with both offering 24/7 support (though I didn't try neither so I can't account for their responsiveness).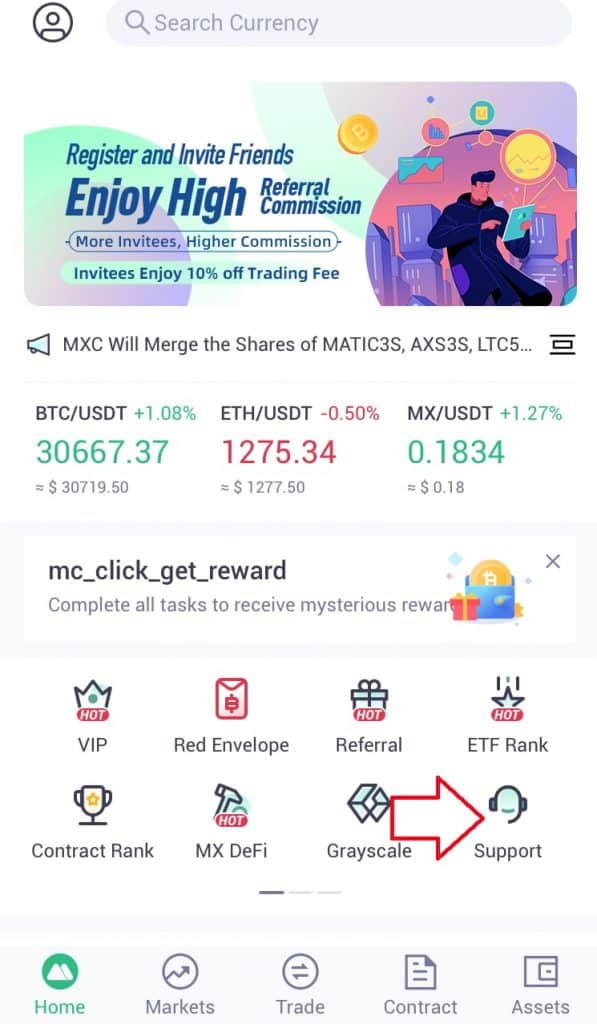 Personally, I have received timely and helpful support from customer service within the same day using the email function.
MXC doesn't appear to have many online reviews or feedback, with only seven reviews on Trustpilot. One common complaint was that some of the less-prominent assets are listed and delisted quite quickly, due to the quick turnover of coins and tokens on the platform. The exchange can also be a little difficult to navigate at times due to poor English translations, which can make things confusing.
---
8. Conclusion
MXC is a great option for trading up-and-coming coins and tokens, often being the first centralized exchange to offer support for these assets. It has several features that cater to all kinds of traders, however it can be a little hard to understand and navigate due to poor English translations across the platform.
Customer support is limited to an email-only service, however I can personally report that the team's replies to email inquiries are prompt and helpful.
That's it! If you've had any personal experience with MXC or have any comments, please share them in the comments section below.