Matrixport Review
By: Shennon Hewa | Last updated: 8/9/22
Matrixport is an innovative cryptocurrency financial services platform, headquartered in Singapore. In this review, I'll go over the Matrixport platform and the main things you need to know before signing up.
Matrixport Review Summary
Matrixport is an all-in-one platform that provides trading features as well as multiple financial services for crypto. The platform is relatively new compared to others, but has achieved substantial adoption – at least according to their self-reported metrics.
That's Matrixport in a nutshell. If you want a detailed review of Matrixport, keep on reading. Here's what I'll cover:
---
1. Matrixport Overview
Founded in early 2019 by Jihan Wu and Ge Yuesheng, Matrixport has become one of the world's largest crypto financial service companies. Matrixport offers a wide variety of services and aims to make crypto more accessible for everyone, designed as a one-stop shop for all your cryptocurrency needs.
Since launching in 2019, Matrixport has raised over $100m in funding, with the latest round closing in August 2021. The company is licensed in both Hong Kong and Switzerland, working with both retail customers and institutional clients.
---
2. Matrixport Services
Matrixport offers a variety of products that will help you invest, trade, earn and even get crypto loans.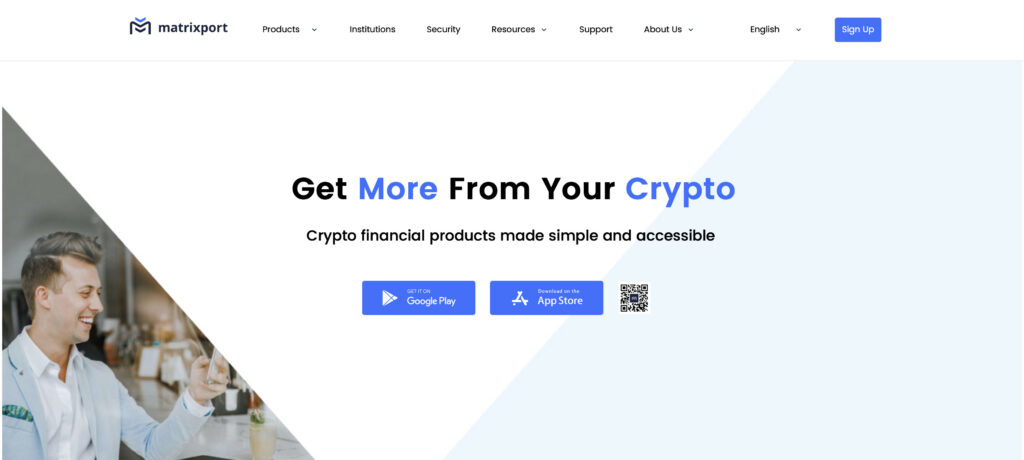 Trading and Brokerage
Matrixport offers spot trading, similar to most other crypto platforms out there. What is unique about trading on Matrixport is that you pay 0% in fees and commissions on your trades – however there may still be a market spread to consider.
You can also trade with up to 5x leverage, at the lowest market interest rates. The only downside is that there is only a small selection of cryptocurrencies available to trade, but most major tokens are available.
Matrixport also offers a traditional brokerage service that will let you buy cryptocurrency directly using a credit/debit card or bank transfer. You can use a variety of fiat currencies to purchase your crypto as long as the transaction amount is at least 50 USD.
Dual Currency Products
Dual currency is Matrixports most popular product since it offers the highest potential yields. Dual currency is a digital wealth management service that generates interest by investing in two linked currencies over a fixed term. Depending on the dual currency investment you choose, Matrixport suggests that you can expect a return of anywhere from 15% to 200%.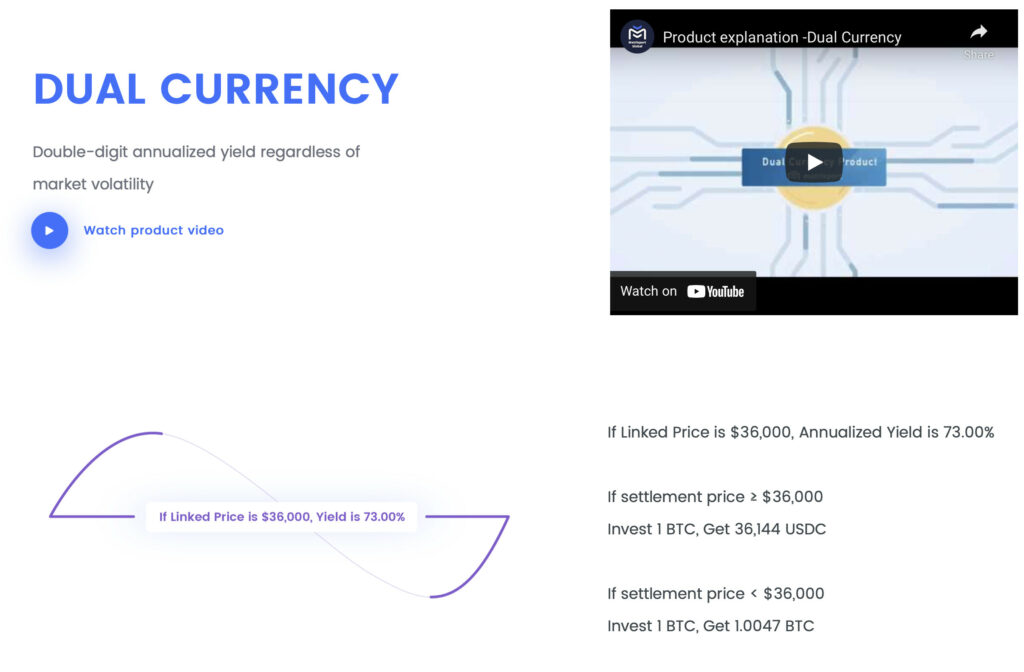 Fixed Income Products
Martixport's fixed income product offers users up to 30% annualized interest rates across multiple currencies. You can deposit your cryptocurrency and Matrixport will let you choose where you want it to go: Curve, a market maker and stablecoin exchange; Compound, an Ethereum-based lending platform or Aave, a lending pool based liquidity protocol.
Flexi Saving
Flexi saving lets users earn up to 6% APY by contributing to liquidity pools to earn interest. What differentiates Flexi Saving from Fixed Income is that you can withdraw your assets at any time. In your first month you get to keep 100% of your earnings, but from your second month onwards Matrixport will charge a fee of 5% on the amount you earn.
DeFi Intelligence
Decentralized Finance (DeFi) intelligence is an innovative way for users to invest their assets. DeFi intelligence readjusts weekly based on market movement and automatically readjusts your investment into more promising DeFi projects. DeFi intelligence can give you returns ranging between 5-30% APY and the returns are paid out weekly.
Loans
Matrixport offers stablecoin loans of up to 2000 USDC, including both regular collateralized loans and interest-free loans.
Normal collateralized loans let you borrow cash with your crypto as collateral, they are flexible with instant approval and feature competitive interest rates. The zero cost loans are interest free with no risk of liquidation and are highly customizable to fit your loan needs.
---
3. Currencies & Payment Methods
Matrixport supports a variety of both fiat and cryptocurrencies.
Supported fiat currencies include: EUR, USD, CAD, JPY, GBP, KRW, RUB, AUD, CHF, CZK, DKK, NOK, NZD, PLN, SEK, TRY, ZAR, HUF, ILS, PLN, INR, AED, UAH, HKD, MYR, NGN, TWD, BGN, BRL, MAD, RON and MXN.
As far as cryptocurrencies go, Matrixport only supports the following 9 cryptocurrencies:
Decred (DCR)
USD Coin (USDC)
---
4. Matrixport Fees
Spot Trading
Spot trading on Matrixport is completely free, with no fees or commission and 0% spread. You will also be able to use up to 5x leverage on trades.
Deposit and Withdrawals
Deposits using crypto are free as well, as is making a fiat deposit via SEPA transfer. Other forms of bank transfer may cost you $30-50 depending on your bank.
Withdrawal fees apply regardless of the method used. Crypto withdrawal fees vary and depend on which crypto asset you are withdrawing, for example BTC withdrawals cost 0.0005 BTC. Fiat withdrawals cost $30 regardless of the type of transfer.
---
5. Buying Limits
When it comes to deposit limits, the amount you can deposit per transaction depends on your level of verification. KYC level 2 users can deposit $100,000 USD per transaction whereas KYC level 3 users can deposit $300,000 USD per transaction.
It's worth noting that whilst the transaction amount is limited there is no daily limit to the amount of transactions you can make.
Withdrawal limits are also determined by your level of verification. You need to be at least KYC level 2 in order to withdraw and you will be able to withdraw up to $1,000,000 USD daily. KYC level 3 users are able to withdraw up to $5,000,000 USD daily.
These limits are the same regardless of whether you want to withdraw cryptocurrency or fiat currency.
---
6. Supported Countries
Matrixport accepts users from all around the world except for the following countries:
USA
Canada
China Mainland
Singapore
Democratic People's Republic of Korea
Japan
Iran
Syria
American Samoa
Cuba
Guam
Puerto Rico
Northern Mariana Islands
Crimea
Sevastopol
---
7. Customer Support & Reviews
Matrixport's website features an extensive FAQ page that will answer most questions you may have, everything from verifying your account to guides on withdrawing funds. In most cases, you will be able to find an answer to your question.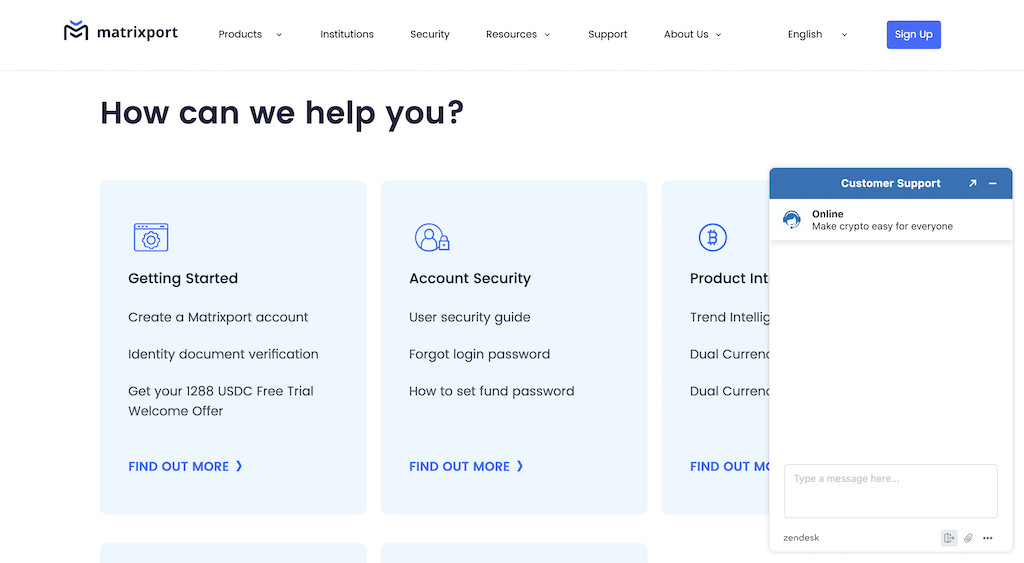 If you find your question unanswered or you need further clarification, you can always open up their live chat to speak to customer support. Alternatively you can contact customer support via email or one of their social media channels.
Since Matrixport was only founded in 2019, there are not many reviews out there for the platform. At the time of writing Matrixport has a rating of 3.4 on Trustpilot, however there are only two reviews so take that rating with a pinch of salt.
---
8. Conclusion
Matrixport is a great platform for people that are looking for one platform that can meet all their crypto currency needs.
Whether you are looking to trade, invest, buy crypto or take out a loan, Matrixport is well worth considering thanks to its wide variety of products and low fees. It is much more than just a cryptocurrency exchange, so keep that in mind when comparing them to other platforms. Some of their investment products are also a bit complex, so it might not be the best option for beginners.
The platform is fairly new, so it doesn't yet have many reviews. However, there are not yet any horror stories or major reasons to avoid the platform. Since they are licensed in Switzerland and Hong Kong, you can have some peace of mind about their compliance and the safety of your assets.