Liquid Exchange Review
By: Alex Miguel | Last updated: 12/9/22
Liquid is a Japan and Singapore-based cryptocurrency exchange, which offers trading of more than 100 different cryptocurrencies with several major fiat currencies. In this review I'll review the services that you can find on Liquid-Global, it's fees and availability.
Liquid Review Summary
Liquid is a fiat-enabled cryptocurrency exchange. It offers both fiat and crypto-based trading pairs, accepting deposits and purchases in several different fiat currencies and all supported crypto assets.
Several types of trading services are available on Liquid, including spot, margin, CFD and futures trading. Credit card purchases are also enabled using Visa cards.
That's Liquid in a nutshell. For a complete review of Liquid read on, here's what I'm going to cover in this article:
---
1. Liquid Overview
Liquid is a Japan and Singapore-based cryptocurrency exchange which was founded in 2018, via a merger between two exchanges owned by Quoine – Quoinex and Qryptos. The roots of Quoine and the original exchanges date back as far as 2014, when Quoine and Quoinex were founded.
The Japan exchange business is licensed and regulated by the Japan Financial Services Agency (FSA).
The 'Liquid Global' business, operating out of Singapore, is currently pursuing a Digital Payment Token license under the Payment Services Act from the MAS (Monetary Authority of Singapore).
---
2. Liquid services
Most of Liquid's trading activity comes from its fiat trading pairs, dominated by its USD and JPY markets.
The exchange also offers a huge range of other trading pairs based in other fiat currencies, as well as crypto-to-crypto trading pairs for more than 100 coins and tokens.

The Liquid trading interface is nice and simple, complete with popular Tradingview charts. Liquid makes sure to minimize the amount of figures and options on display, making the dashboard less intimidating to navigate than some other exchanges.
A user can easily toggle between trading modes (spot, margin, CFDs, and futures) by using the dropdown menu in the upper-left corner.
---
Margin trading
Liquid's margin trading service allows the trading of fiat-based pairs with up to 25x leverage. The feature is not available for crypto-to-crypto trading pairs.
Users can also make money by lending out their assets to margin traders, for an interest rate fee.
Infinity (CFD trading)
Liquid also offers contract for difference (CFD) trading, through their "Infinity" trading feature. This is very similar to futures trading, in the sense that traders are betting on the price of the asset rather than owning it.
Liquid infinity offers leveraged trading of up to 100x on BTC-USD and BTC-JPY trading pairs.
Perpetual Futures
Liquid's newest feature is perpetual futures contracts for the Bitcoin-USD market. Their perpetual futures contract is called P-BTC, and it works slightly differently from other perpetual futures contracts.
The key difference is that P-BTC contracts are priced in terms of Bitcoin, rather than US dollar value.. Trading of P-BTC is available with leverage of up to 100x.
Mobile App
Liquid has its very own "Liquid Pro" mobile app, which provides all of its trading features on the go. This is available on both iPhone and Android.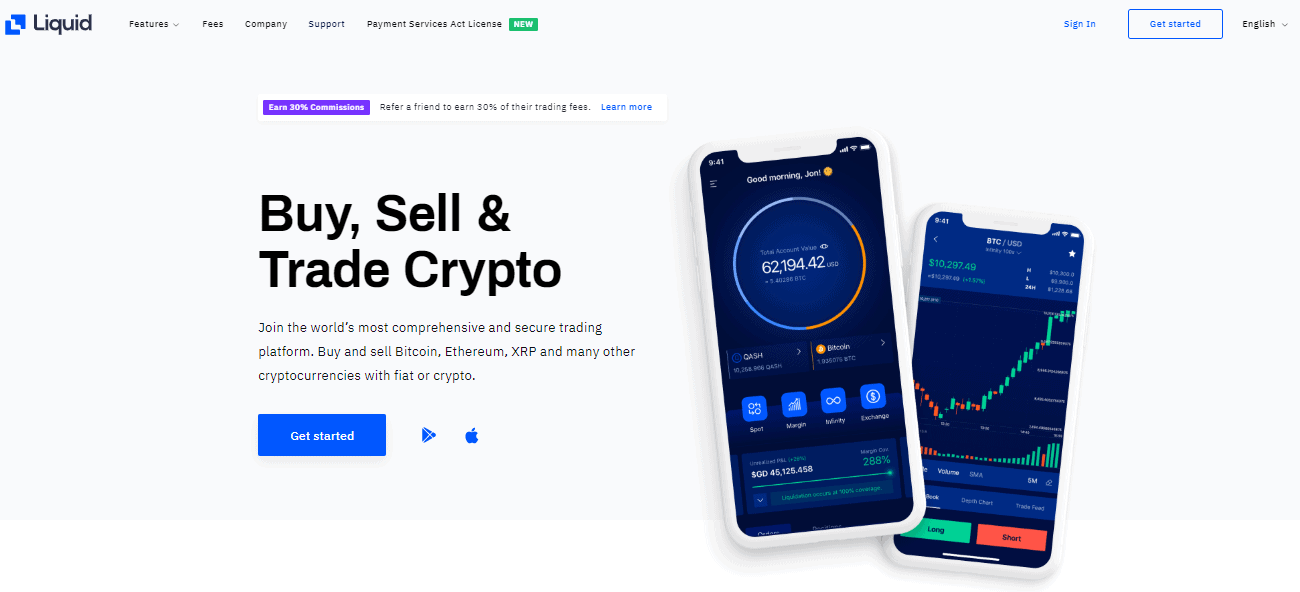 ---
3. Currencies and payment methods
Liquid supports a wide range of fiat currencies including
All currencies are available via bank deposit, with an additional SEPA payment option available for EUR.
Each one of the 100+ supported cryptocurrencies on liquid can also be deposited or withdrawn at will.
Popular cryptocurrencies available on Liquid include:
BTC
ETH
XRP
BCH
LTC
CEL
IOTA
Like many popular exchanges, Liquid offers an instant buy option with Visa credit or debit cards. This feature is available globally, but may be accompanied by higher fees.
A credit card fee and a conversion rate will apply – however this is conveniently calculated and displayed to the user prior for making a purchase.
---
4. Liquid fees
Trading fees
Liquid charges a maximum 0.3% taker fee, which decreases with a user's monthly trading volumes.
The maximum maker fee is 0.3%, which also decreases with trading volumes, but at a faster rate. Maker fees are free for low-volume traders who trade less than $10,000 monthly.
Fees are slashed in half when paying with Liquid's exchange token, QASH.
Futures trading fees
Trading fees for their perpetual futures are slightly different, with a maximum taker fee of 0.12%. Maker fees are 0.00% on perpetual futures markets and even drop to a negative value (rebate) for larger trading volumes.
Paying perpetual futures trading fees with QASH only provides a discount for taker orders.
Deposit and withdrawal fees
Deposits of both fiat and cryptocurrencies are free, however usual payment processor charges will apply for fiat deposits.
For fiat withdrawals, there is a 0.10% fee, with a minimum charge of $15.
Crypto withdrawal fees are reasonable, designed to cover network fees and nothing else. Currently, withdrawing Bitcoin costs 0.0007BTC per withdrawal, and Ether 0.01ETH per withdrawal.
---
5. Buy and withdrawal limits
Verified accounts have a limit of $2,000 on instant cryptocurrency purchases using their Visa card, with this figure subject to change.
Cryptocurrency withdrawals for unverified accounts are capped at $2,000 equivalent per day and $20,000 equivalent per year.
Verified accounts are permitted to withdraw up to $30,000 worth of cryptocurrencies daily and a maximum of $300,000 per month.
---
6. Supported countries
Liquid is available to many countries worldwide except for:
United States, Albania, Bahamas, Barbados, Botswana, Cambodia, Cuba, Democratic People's Republic of Korea (DPRK), the Democratic Republic of the Congo, Ghana, Iceland, Iran, Jamaica, Libya, Mauritius, Mongolia, Myanmar, Nicaragua, Pakistan, Panama, Somalia, South Sudan, Sudan, Syria, Uganda, Yemen, Zimbabwe, United States, Virgin Islands, American Samoa, Guam, Puerto Rico, Northern Mariana Islands (MP)
---
7. Customer support and reviews
Liquid has a very easy-to-use online help section, which is full of articles on frequently asked questions. If that doesn't do the trick, they have an email support service which typically replies within a matter of hours.
Trading on Liquid appears to be a generally positive experience according to reviews.
One of the few common complaints is simply being that smaller altcoins do not have enough liquidity. Another common issue appeared to be around slow know-your-customer (KYC) verification, with this being required only for withdrawals but not deposits.
Some users felt as though their funds were being held against their will, not knowing they would need to verify themselves to withdraw them again.
---
8. Frequently asked questions
Can I withdraw money from Liquid?
Yes, you can withdraw money both in the form of fiat currency and cryptocurrencies from Liquid, as long as you have verified your identity.
Fiat currency withdrawals have a 0.10% fee and a minimum charge of $15.
Can I buy Bitcoins on Liquid?
Yes, buying Bitcoins on Liquid is easy! You can use your Visa credit or debit card for instant purchases (with a maximum of $2,000), or simply deposit a supported fiat currency into your trading account.
How do you buy Bitcoin on Liquid?
Sign up to Liquid
Fund your account with fiat or a supported cryptocurrency
Find the trading pair between your deposited currency and Bitcoin
Buy Bitcoin with the currency you have deposited
Withdraw the Bitcoins to your personal wallet!
You also buy Bitcoin instantly, using your Visa card.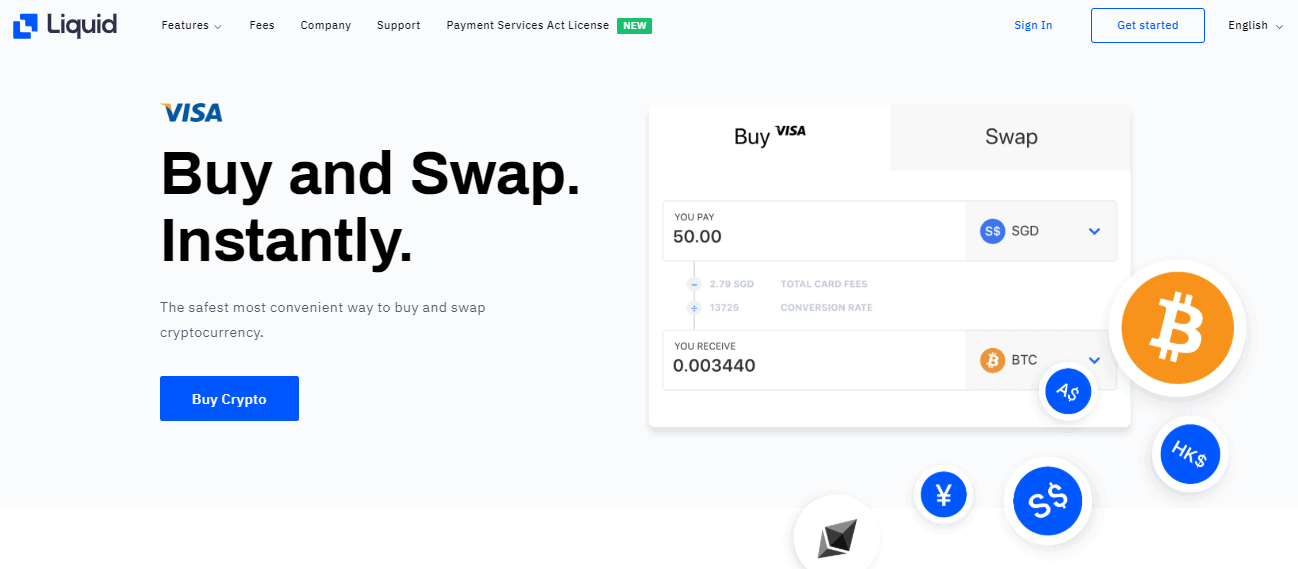 ---
9. Conclusion – is liquid safe to use?
Liquid is a reliable exchange, with the Japaneses business branch being licensed and regulated by the Japan Financial Services Agency. They have a good track record of staying compliant with laws and regulations, going as far as delisting almost 30 assets this year to do so.
Liquid also enables its users to protect their accounts using 2-factor authentication (2FA), and the exchange itself has never been hacked.
There are a few dangers to look out for when using Liquid, which are more to do with the user rather than the exchange itself.
The first of these is margin trading, which is dangerous due to the high leverage involved. Trading on high leverage isn't recommended for newbies due to the extra risk, which could end up with your entire balance being liquidated.
The other thing to watch out for is verification – don't deposit funds into Liquid unless you're willing to confirm your identity in order to withdraw them.
Overall, Liquid is a well-regulated and easy-to-use exchange, which offers a viable alternative to Coinbase for reliable fiat deposits, trading and withdrawals.