CoinDCX Review and Comparison Guide
By: Alex Miguel | Last updated: 4/25/21
CoinDCX is perhaps the largest cryptocurrency exchange in India, backed by Coinbase and other notable names. In this review, I'll go over the platform and its services, as well as some of its pros and cons.
CoinDCX Review Summary
CoinDCX is an Indian cryptocurrency exchange which draws liquidity from other exchanges including Binance. It's beginner-friendly and has backing from some notable names in the industry.
That's CoinDCX in a nutshell. For a more detailed review, continue reading below. Here's what I'll cover:
---
1. CoinDCX Overview
CoinDCX was founded in 2018 by Neeraj Khandelwal and Sumit Gupta, and is headquartered in Mumbai, India. It has received backing from several notable names in the cryptocurrency space, including Coinbase and 100x Ventures, the parent company of BitMEX.
It boasts two million active users and a total of more than three billion INR invested into crypto by traders on the platform.
---
2. CoinDCX Services
Instant Crypto Purchases
CoinDCX's Insta feature allows users to buy more than 100 different cryptocurrencies "instantly". This feature differs from the instant buying services we see on other platforms, however, in the sense that they usually support credit or debit card purchases.
Instead, CoinDCX users deposit Indian rupees (INR) via bank transfer and use their balance to place a market order.

Although not as fast as bank card purchases, this method still streamlines the process into a method that is easy for beginners. There are no candlestick charts or order books to be deciphered, just a simple "buy" or "sell" button at the market rate.
Mobile app (CoinDCX Go)
CoinDCX Go is the exchange's mobile app, which is designed to make buying crypto easy, legal and simple. In essence, it is an-on-the-go version of the "Insta" instant-buy feature.
Users can link their bank account to buy cryptocurrencies in an intuitive way, which CoinDCX pledges is the "simplest cryptocurrency app to help Indians invest in Bitcoin".
Spot Trading
In addition to the instant-buy tools, CoinDCX has a regular exchange, featuring all of the tools you may expect. This includes TradingView-powered charts, order books, limit orders and market orders.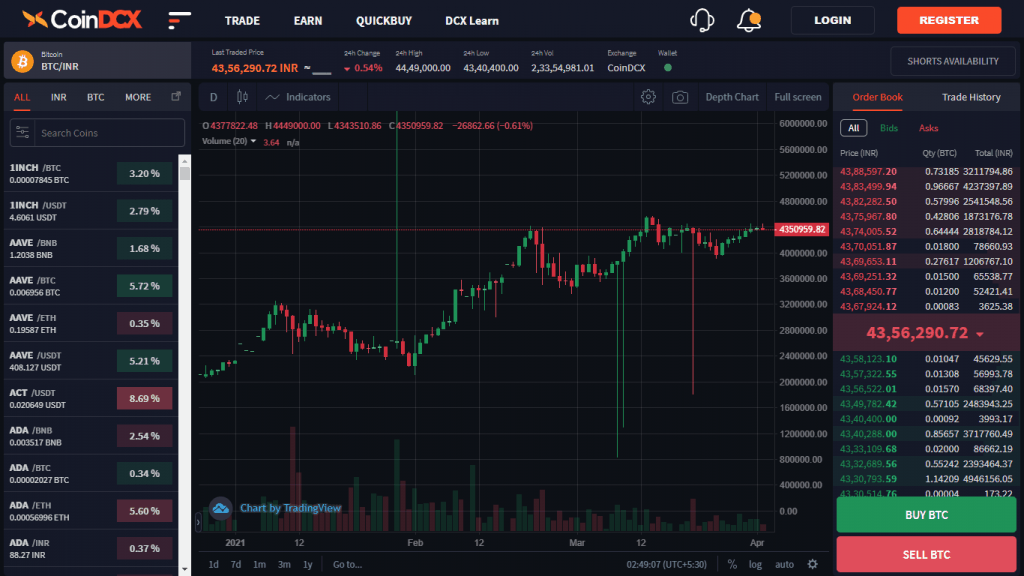 The most interesting part of the exchange is that for most trading pairs, CoinDCX users are actually trading on Binance, Huobi, or HitBTC order books. This allows CoinDCX users to take advantage of the liquidity found on these popular exchanges, while also providing some of thots own markets, wallets and features.
When it comes to INR trading paris, however, these are by CoinDCX themselves and do not appear to have great liquidity (there were some huge wicks on the chart!).
Margin Trading
The exchange also provides margin trading, with 2-10x leverage across more than 250 trading pairs. The margin exchange interface also comes with some additional order types such as stop-limit orders, bracket orders and trailing stop-loss orders for a more complete experience.
Futures Trading
If margin trading doesn't satisfy your need for leverage, CoinDCX also offers futures contracts trading with higher leverage for major markets – sometimes up to 20x.
Once again, CoinDCX doesn't have its own futures exchange, but instead provides an interface to trade OKEx futures contracts. BitMEX-based contracts are also available, however it is unclear if these use the same mechanism.
Lending/staking
Last but not least, CoinDCX has lending and staking services, which enable users to earn a passive income on the supported assets.
The lending market provides a medium for users to lend funds to margin traders, for a minimum of 7 days at a time. A large selection of coins are supported for lending, at very competitive rates.
The staking service, on the other hand, is designed to enable users to more easily stake their proof-of-stake (PoS) assets on their respective networks. Rather than requiring technical knowledge or any extra software, users can simply opt for CoinDCX to do the staking for them.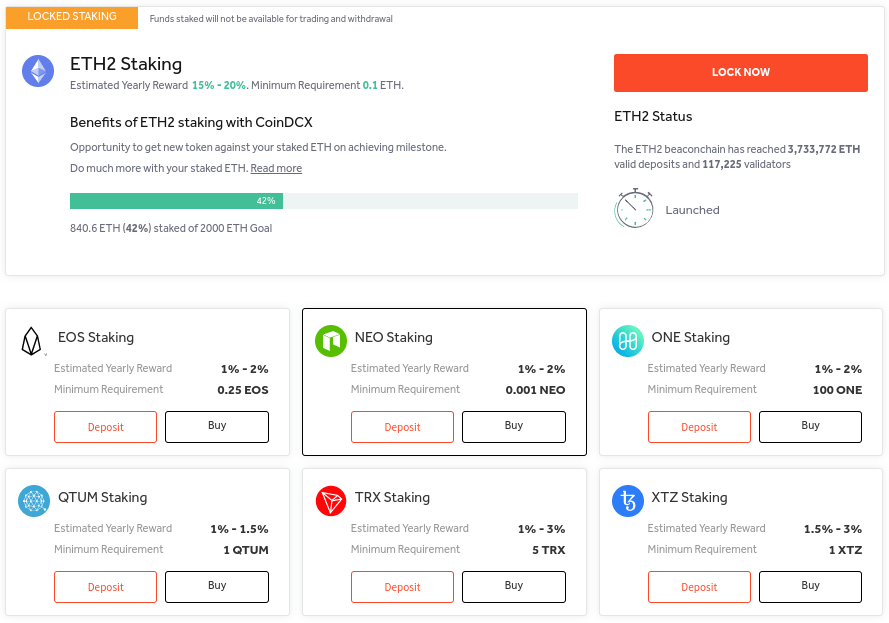 ---
3. Currencies and Payment Methods
Fiat
Users can deposit Indian rupees (INR) into their CoinDCX account by using one of three different methods:
Instant IMPS/NEFT/RTGS bank transfer
Standard IMPS/NEFT/RTGS bank transfer
Mobikwik wallet (using Netbanking, UPI or debit card).
Cryptocurrency
CoinDCX supports the instant purchase of over 100 cryptocurrencies, with even more available for regular trading.
This includes:
Bitcoin (BTC)
Major altcoins (including ETH, TRX, XRP, ADA, BNB, EOS, DOGE, and more)
Popular stablecoins (USDT, USDC, TUSD, DAI).
---
4. Fees
Deposits and withdrawals
Depositing INR with instant and regular bank transfers is fee-free. The Mobikwik wallet option will incur a fee of 1% to 1.5%, plus GST. Deposits of cryptocurrency are also free.
Withdrawals are free for INR, while most cryptocurrencies are subject to a small and reasonable fee to cover network costs.
Trading fees
Due to its reliance on other exchanges for many of its trading pairs, CoinDCX's trading fee schedule is somewhat complicated.
For trading pairs provided by Huobi and HitBTC, trading fees are standardised at 0.2% for maker and taker orders of any size. Binance-provided trading pairs have a maximum fee of 0.1% for make and taker orders, with discounts offered for higher trading volumes.
INR trading pairs have a flat fee of 0.1%, while futures contracts are cheaper than all other CoinDCX markets.
A full up-to-date fee schedule can be found on the CoinDCX fees page.
---
5. Buying Limits
Deposit limits
With know-your customer (KYC) verification, all bank transfer deposits have a maximum limit of 5,00,000 INR. Mobikwik deposits have a lower maximum of 1,00,000 INR.
Without KYC verification, however, there is a maximum deposit limit of 10,000 INR.
For crypto deposits, there is a limit of 4 BTC per day without KYC, and no limit once verified.
Withdrawal limits
Similarly, withdrawals are higher for KYC-verified accounts which allow for a maximum withdrawal of 5,00,000.
Non-verified accounts are allowed to withdraw up to 10,000 INR total.
For crypto withdrawals, there is a limit of 4 BTC per day without KYC, and no limit once verified.
Trading limits
Crypto purchases using the "Insta" instant-buy feature must be a minimum of 1 INR, with a maximum transaction size of 1,00,000 INR.
Maximum trade and order sizes on the spot and margin exchange are unspecified, however there are clear order limits available for futures trading. These limits are specific to the contract being traded and can be viewed on that contract's information page.
---
6. Supported Countries
Users from all countries can create an account with CoinDCX, however only users from India can participate in INR markets.
---
7. Customer Support and Reviews
When it comes to customer support, CoinDCX sends users straight to their FAQ section, which seems to address most basic inquiries.
Contacting the exchange directly for more pressing issues appears to be a little more difficult. Users can submit a support ticket for assistance, with an estimated waiting time of 3-5 days according to CoinDCX themselves.
The exchange only has a small number of reviews on Trustpilot, bearing an overall "average" score of 3.6 stars. This should be taken with a grain of salt due to the small sample size and some apparent spam ratings.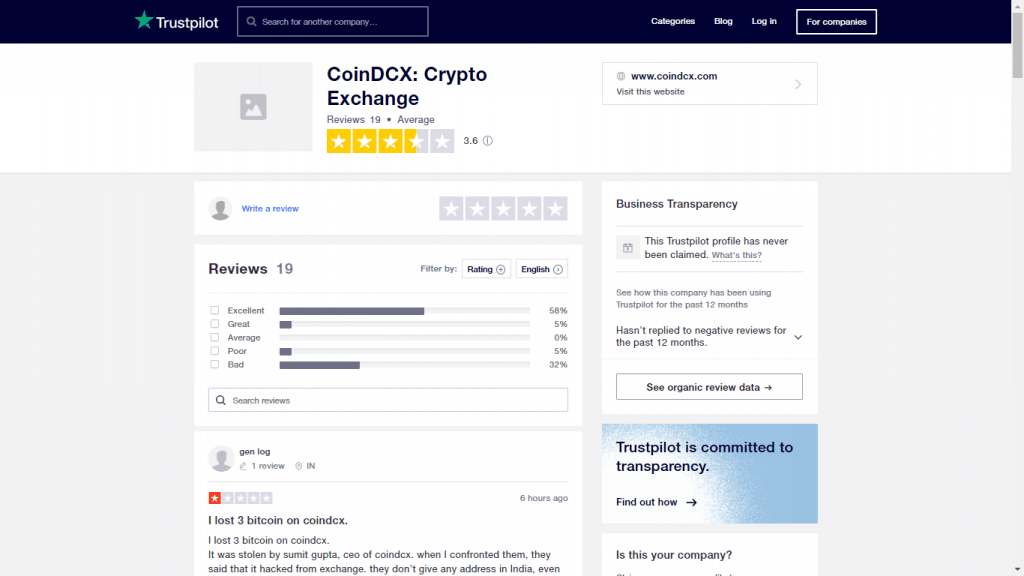 Some better insight can be found on their Twitter page and Telegram channel, with many users complaining that deposits had not been credited to their accounts. Other minor (but common) complaints included customers not receiving their 2FA codes via SMS, and poor exchange function during times of market volatility.
---
8. Conclusion
CoinDCX is an Indian cryptocurrency exchange with some huge backers, including other major exchange owners.
Rather than operating just its own markets, CoinDCX provides access to markets from several other exchanges, taking advantage of their order books and liquidity. They also have their own INR-denominated markets, however these are less liquid.
Customer support appears to be a little slow, with users waiting long times for specialized support with platform issues.
Overall, CoinDCX provides users with a well-rounded suite of services including instant purchases, margin trading, futures trading, lending and staking.