Bityard Review
By: Alex Miguel | Last updated: 12/12/22
Bityard is a Singapore-based cryptocurrency derivatives exchange, specializing in contracts trading for most major coins. This review covers everything including Bityard's services, fees and pros and cons.
Bityard Review summary
Bityard is a contracts for difference (CFD) exchange, specializing in cryptocurrency contracts trading.
With Bityard, you can trade (but not buy) major cryptocurrencies with up to 100x leverage, funded with crypto. Fiat support is available for just a handful of countries.
The exchange supports trading across desktop and mobile via their app, with several language options to choose from.
That's Bityard in a nutshell. If you would like a more detailed review of the platform and its services, read on below. Here's what will be covered:
---
1. Bityard Overview
Bityard is headquartered in Singapore and available to countries worldwide. It was launched in April 2020 with the aim of simplifying the cryptocurrency trading experience for its users.
Being a CFD platform, it has a more basic user interface than other crypto derivatives exchanges, free from orderbooks and complex order types.
According to their website, they're regulated and licensed by authorities across Singapore, the USA, Estonia and Australia.
Users can open an account in less than 30 seconds, by registering with an email address or mobile phone number.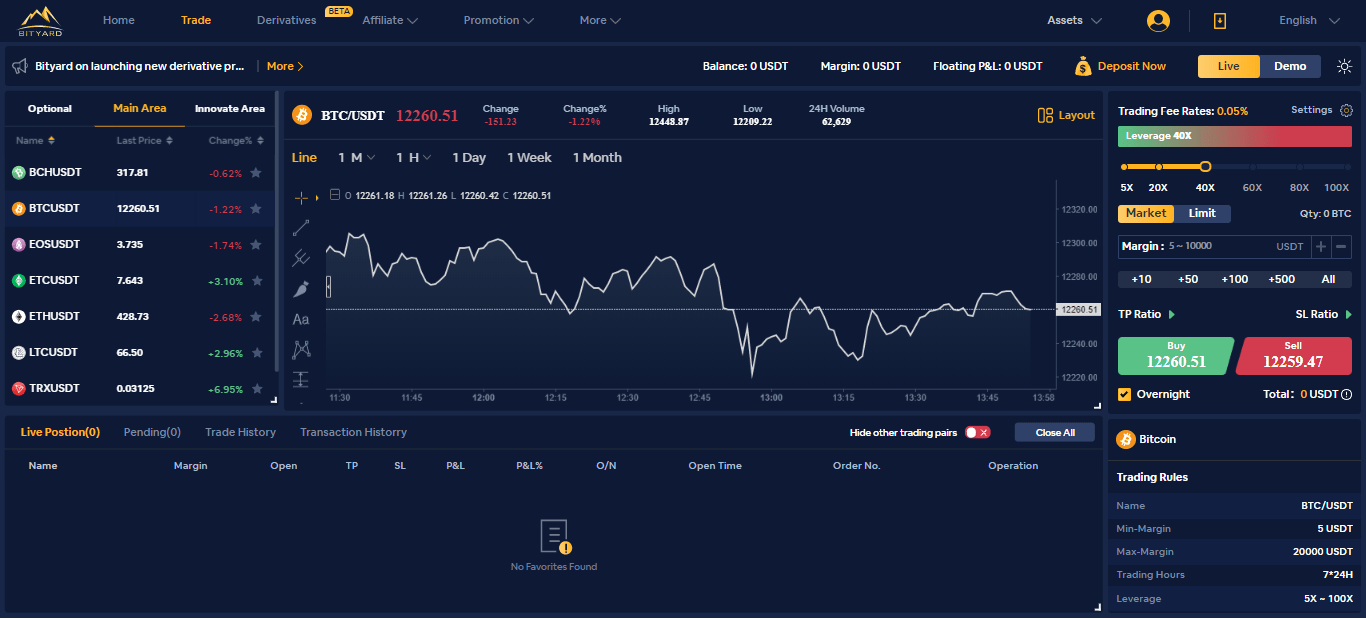 ---
2. Bityard Services
Bityard offers cryptocurrency contracts for difference (CFDs), which allow users to speculate on the price of cryptocurrencies without directly owning them.
In a nutshell, CFD trading is extremely similar to trading perpetual futures contracts on platforms like BitMEX or Binance Futures – however there is a key difference:
Although both types of platforms connect speculators betting for and against the price of cryptocurrencies, CFD platforms remove the need for extra details such as orderbooks.
CFD platforms replace these orderbooks by charging a fee instead, in the form of a spread or a fixed commission. This allows traders to buy or sell the contracts at a clearly-defined price, rather than worrying about liquidity.
Because of this, CFD trading platforms are easier to navigate and have much less data to consider while trading. Additionally, CFD contracts have no expiry date, which means that positions can be held for as long as the trader wishes.
Bityard CFDs
Bityard users can trade USDT-based pairings of several major cryptocurrencies. These include:
Bitcoin (BTC)
Ethereum (ETH)
Litecoin (LTC)
Ripple (XRP)
Bitcoin Cash (BCH)
Ethereum Classic (ETC)
EOS (EOS)
Tron (TRX)
Dash (DASH)
Link (LINK).
Bityard CFD contracts allow trading with leverage of up to 100x, with a minimum trade size of 5 USDT and maximum trade size of 20,000 USDT.
Fees involve commissions on all trades and overnight fees, which are covered in more detail below.
Trading App
Bityard has a user-friendly mobile trading app for on-the-go trading, which is available both on iOS and Android.
Due to the simplicity of the platform, the app is very easy to use.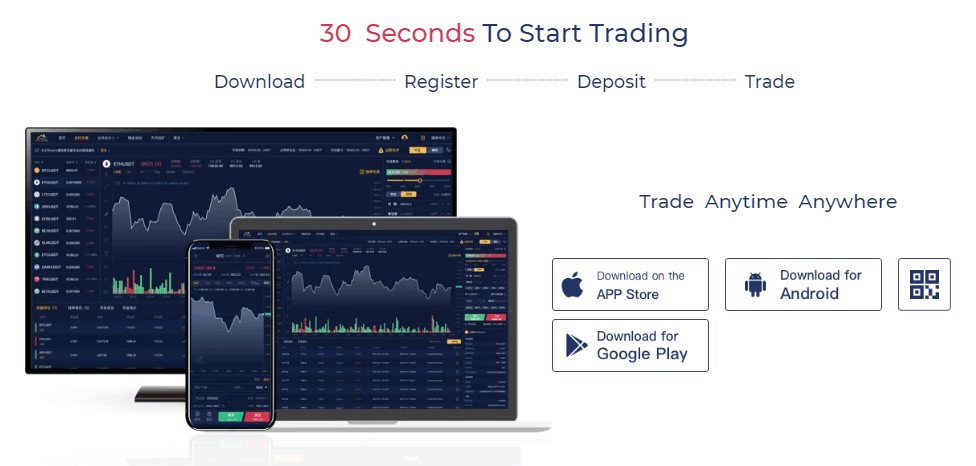 ---
3. Currencies and Payment Methods
Bityard accepts deposits primarily in the following cryptocurrencies:
USDT
BTC
ETH
TRX
XRP
EOS
HT.
They also accept fiat deposits for users in Vietnam, Indonesia and Mainland China. Further countries may become supported for fiat transactions in the future.
All fiat deposits and withdrawals require know-your-customer (KYC) processes, which involves uploading contact details and a copy of a form of identification.
All deposited currencies are converted to USDT for trading, with USDT being the only cryptocurrency available for withdrawals.
---
4. Fees
Bityard has two main types of fees: Trading fees and overnight fees.
Trading fees are a flat-rate fee of 0.05%, both for the opening and closing of a trade. Bityard applies both the opening and closing fees up-front, when a trade is opened.
The overnight fee is a charge applied to positions held on a long-term basis and is paid once daily at SGT 05:55:00.
The overnight fee is 0.045% of the position size, and is only charged to positions which have been open for more than 12 hours.
Deposits are free, while withdrawal fees vary between 0 to 5 USDT, depending on which network your USDT token is being sent to.
It is important to note that the minimum withdrawal amount is 50 USDT.
---
5. Supported Countries
According to their FAQ, Bityard currently has users from over 150 countries and claim to support trading from all countries around the world.
---
6. Customer Support
Bityard has an FAQ section to help out with common help questions, as well as a chatbox for more personalized support.
This chatbox defaults to an automated chat-bot, however assistance from a human operator can be requested at the click of a button. Human operators usually appear to respond within 5 minutes.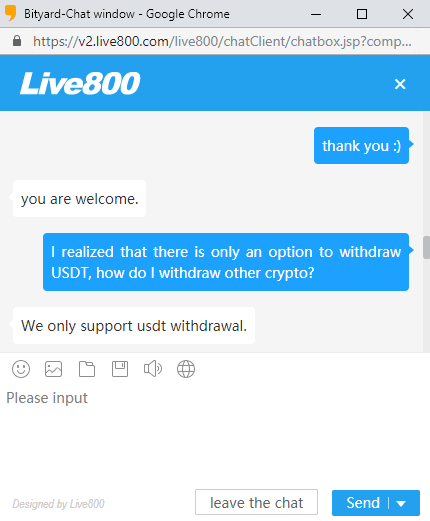 Bityard social media channels such as their Telegram are quite active, however they appear to send users to the website help service, rather than assisting directly.
---
7. Conclusion
Bityard is a very nice and simple platform for users who want to take part in leveraged trading of cryptocurrencies – especially those who are new to the concept.
Everything from setting up an account to placing a trade is extremely easy, with less clutter on the trading screen compared to other crypto derivatives exchanges.
Users in most countries will have to already own cryptocurrency to be able to trade on the platform, however if you're in luck for fiat currency support if you live in Vietnam, Indonesia or Mainland China.
The chatbox operators are responsive and very helpful, and the fees are competitive.
The only thing to be wary of is that users can only withdraw in USDT, with a minimum withdrawal amount of 50 USDT.
Larger traders may have to give Bityard a miss, with trade size capped at a maximum of 20,000 USDT.
Important:
Please note that CFDs are complex instruments and come with a high risk of losing money rapidly due to leverage. 75% of retail investor accounts lose money when trading CFDs with this provider. You should consider whether you understand how CFDs work, and whether you can afford to take the high risk of losing your money.
Have you used Bityard? Let us know about your experience in the comments section below!