Canada is on a Bitcoin roll. Following the Canadian Senate's public stance on cryptocurrency that was announced last week, Kraken has opened a Bitcoin exchange in the country.
The San Francisco-based Bitcoin exchange has officially launched in Canada thanks to a partnership with Vogogo, a Calgary-based payment processor.
"Vogogo and Kraken are working on several industry initiatives and the partnership is now active in Canada to make Kraken available to clients throughout the country. The Vogogo platform provides Kraken with sophisticated risk management, security, compliance and payment processing services to enable Kraken's clients to seamlessly exchange between Canadian dollars and Bitcoin or other cryptocurrencies," reads a press release.
Canadian Bitcoiners interested in using Kraken's services can do it easily and quickly, converting Canadian dollars into BTC via Interac e-Transfer and electronic fund transfers (EFT). Users can start trading immediately with Interac deposits, which are typically credited to their accounts within a few minutes after being sent.
The fees charged by the exchange – considered the highest volume Euro market – are priced at 0.10% for high volume traders and can go up to 0.35% for less active traders.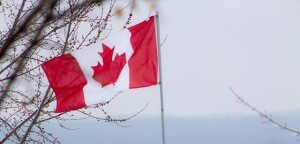 "We see a lot of opportunity for Kraken in Canada and we're counting on Vogogo's expertise in risk management and payment processing to make it possible for Canadians to move their dollars safely and efficiently to and from Kraken," Kraken CEO Jesse Powell said, focusing on the company's constant concern about the security of its customers.
"We're looking forward to providing fast settlement and liquidity that will enable the Canadian market for Bitcoin and Bitcoin businesses to flourish," Powell added.
On the other side of the partnership, the CEO of Vogogo confirmed he was extremely pleased with the new service available in Canada. "The Kraken team is undoubtedly one of the most talented, sophisticated and capable crypto exchanges in the industry and together we share a commitment to solidifying the global crypto ecosystem," Geoff Gordon said.
"Their level of diligence in selecting partners speaks to the reputation Vogogo has gained within the industry. We're excited, but perhaps more importantly, we are focused on working with Kraken and playing our part in enabling and accelerating their growth. We will continue to provide secure, effective and compliant access to global banking and payment networks allowing Kraken to look forward and focus on being the very best at their business."
From a business perspective, Kraken will try and make the most of the closures of former Canadian market leaders like CaVirtex and Vault of Satoshi, two BTC platforms that closed earlier this year.