After the only Bitcoin ATM operating in Vermont was shut down earlier this week, now two crypto machines previously installed in Amsterdam have disappeared without a trace. Owners and authorities say the devices were stolen.  
The disappearance was originally noticed by the site Coin ATM Radar, which tracks the activity of all cryptocurrency ATMs operating around the world. The online platform published a tweet on Saturday (14th) claiming both machines had been stolen.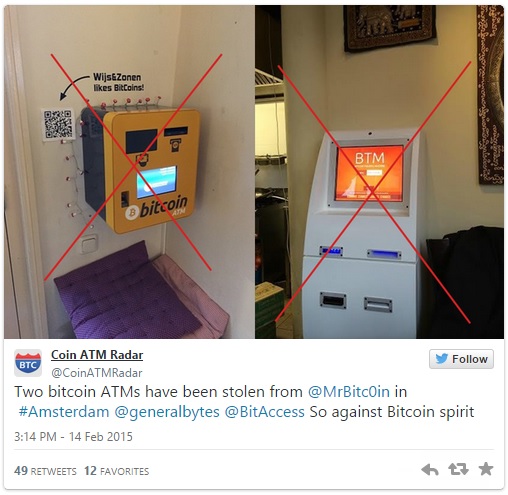 One of the ATMs, a General Bytes BATMTwo machine, was located at Hofje van Wijs, a bar in the city's red light district. The machine was worth $2,600 and went missing around 7am on 26th January.
The second ATM is a two-way ATM produced by BitAccess and operated by the company EasyBit. This device is worth about $10,000. However, in this case, the exact date of its disappearance is not clear.
One of the member of the Dutch Bitcoin ATM collective MrBitco.in, who owned the General Bytes machine, told CoinDesk that he was "devastated at first" when he learned about what had happened. However, Martijn Wismeijer added that "this being Amsterdam we expected stolen units months ago".
"In a way we see this as the Bitcoin market maturing. If thieves start pointing their crowbars at the Bitcoin ATMs, we know Bitcoin has gone mainstream," he said.
The exact amount of stolen funds is still not clear at the moment, but according to Wismeijer "a loss like this is not easy to overcome for an independent trader".
The Dutch authorities are currently investigating the case.