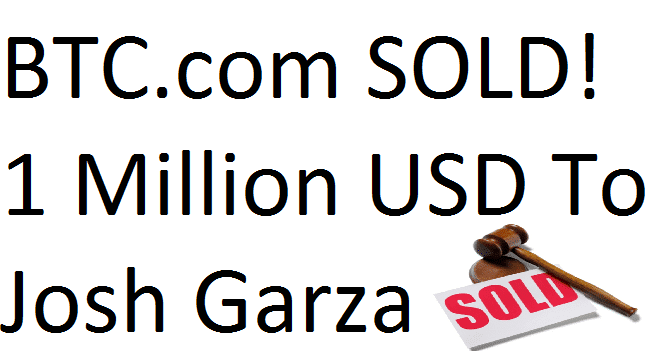 Josh Garza of GAWMiners is now the brand new owner of the bitcoin domain name BTC.com! Mr. Josh purchased the bitcoin domain name for a whooping $1 million dollars USD. No one really knows who previously registered or owned the bitcoin domain name but it was listed for sale about a week ago. The company represented the bitcoin domain name contacted a few of the cryptocurrency market big players but Josh was the lucky one to walk away with BTC.com. The bitcoin domain name was not auctioned.
Bitcoin Domain Name Sold!
The bitcoin domain name was listed as a 'Taking Offers' and 'Buy It Now' property. We're not sure if Josh initial offer was for $1 million or if he negotiated the price down. Putting BTC.com on a higher bitter take it all auction would have been very interested and would have attracted some of the biggest bitcoin investors in the world. It is now too late unless Josh plans on flipping the bitcoin domain name. Josh found out he submitted the highest bid for the bitcoin domain name when he woke up to an email that read:
Josh Garza
To: Scott Fargo
Date: August 4, 2014, 2:32 AM
So you wanted some news?

I just bought btc.com for 1.1 million 🙂
Josh with his company GAWMiners is one of the major bitcoin mining players in the bitcoin community and his investment in BTC.com shows how much he is willing to go to promote bitcoin and its causes. We are hoping other bitcoin and potential bitcoin investors took note. This is another sign that bitcoin as a cryptocurrency is here to stay and is bound to take over the world currency market by storm. with companies like Bitfury raising load of money and more bitcoin and bitcoin related companies coming out with IPOs, it will be foolish if not outright embarrassing for the big time financial players to be left behind the bitcoin bandwagon.
RELATED: How to Get Free Bitcoins with Bitcoin Faucets That Really Pay
cryptocoinsnews reached out to Josh and he said this:
How has Bitcoin changed your life, and the way you approached money?

Bitcoin is Money. It certainly gives a new perspective on a universal currency and the value of everyone believing in the same currency. That is a big reason why I got into it to begin with. I would say, for me personally, it has helped me understand; I am not this guy who just believes my company needs to grow, I feel the industry as a whole needs to grow. For me, it is that we need to invest in what we believe in. There is no better way to show you believe in something than by investing your money and time. Back it up with your checkbook. For me, I believe in this industry, and I am willing to invest my money I have made in my other companies to support it and help it grow. That is how it has changed my perspective.
The team at BitcoinValues.net would like to take this time to congratulate Josh on his big bitcoin domain name BTC.com purchase and wish him luck. We are pulling for you Josh!
Source: cryptocoinsnews