As expected due to the growing popularity of cryptocurrency, this year's Bitcoin Black Friday was a huge success. The electronic shopping holiday registered a record of sales, whereas the traditional Black Friday sales went down 11 percent.
The Bitcoin-related event saw an 82 percent increase in the number of merchants who completed transactions on 28th November when compared to the 2013 crypto-holiday, the payment processor BitPay revealed this Tuesday (9th). This and other results "demonstrate just how much the Bitcoin ecosystem has grown and diversified since last year", the company said.
This year's Bitcoin Black Friday attracted more than 1,200 merchants from across the world, against the 50 businesses that joined the inaugural event in 2012.
But besides the growing numbers, there is another fact that is worth a reference. "While last year many of the discounts and deals were for Bitcoin-related technology, like Bitcoin mining equipment, this year a broader range of retailers were offering Bitcoin-specific deals on a wider array of items", BitPay revealed.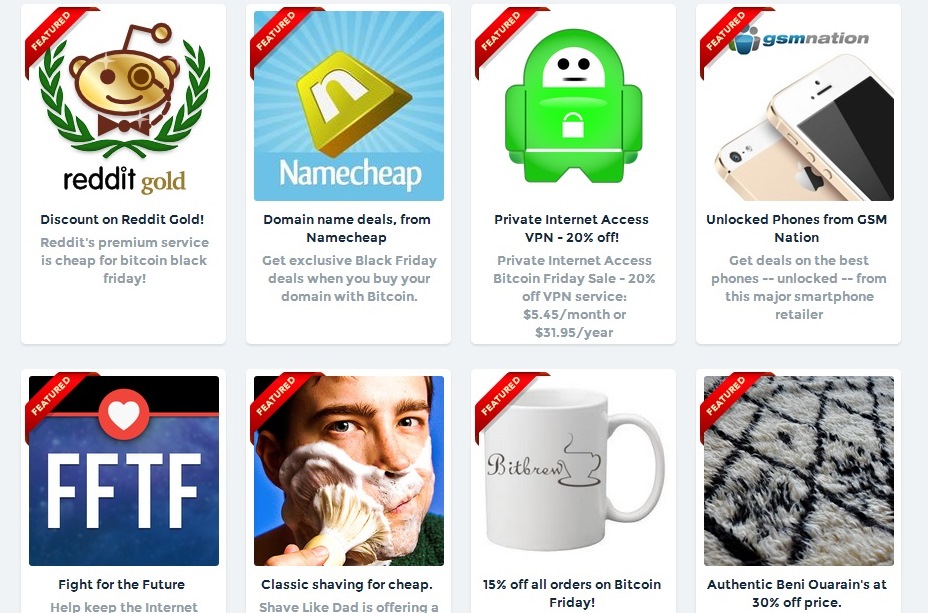 And the consumers apparently appreciated the change, as proven by the shift in spending patterns. While in 2013 most transactions were for Bitcoin mining equipment, this year Bitcoiners spent more on other ecommerce products. According to the world's biggest payment processor, both Gyft and NewEgg experienced their best day of Bitcoin sales ever.
The electronic gift card provider Gyft had 62 percent more transactions this Bitcoin Black Friday than last year, "while increasing the value of purchases by 139 percent". The second company in the list, NewEgg, "not only set personal records for total dollar value of purchases, as well as number of transactions".
Amagi Metals – the bullion dealer that started accepting Bitcoin in August 2014 – registered a new record, as well. The company had their highest amount of BTC orders in one day. Names such as TigerDirect, Adafruit and Namecheap were also featured in the list of Bitcoin-friendly companies with positive results in this year's event.
"This Bitcoin Black Friday may signify a move forward and toward mainstream acceptance of Bitcoin", BitPay wrote.
As Bitcoin Examiner reported last week, the amount of Bitcoin spent during this year's Black Friday and Cyber Monday set a new record in the cryptocurrency ecosystem. A total of $296 million in Bitcoin were spent by consumers during the weekend. And there's more: between 28th November and 1st December, Bitcoin was the ninth biggest payment method used across the world.