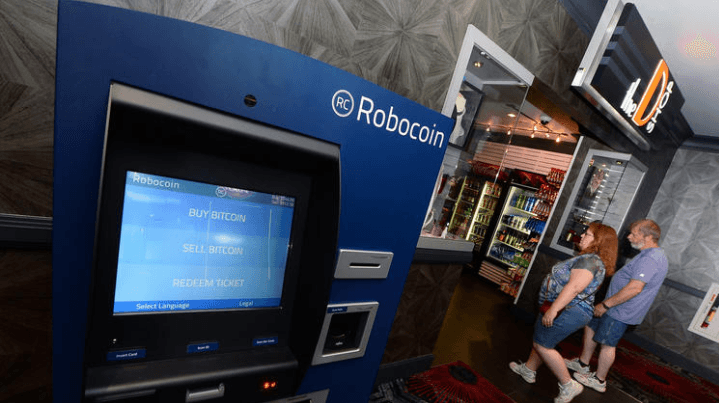 Bitcoin ATMs in Los Angeles – Bitcoin traders and owners in the Los Angeles area should rejoin as America's second most populated city is getting its first set of bitcoin ATMs sometimes next week. The bitcoin ATMs in Los Angeles, California will be installed and managed by ExpressCoin – a Santa Monica bitcoin payment processor. Bitcoin owners will be able to make bitcoin deposits and exchange bitcoins for cash at any of the ATMs installed in the city! Like other bitcoin ATMs that are installed worldwide, those bitcoin ATMs are manufactured by Robocoin at a cost of $15,000.
Bitcoin ATMs in Los Angeles, California This Week!
The bitcoin ATMs in Los Angeles  can be used to buy, sell and exchange bitcoins for US dollars. As the writing of this news piece, the price of a single bitcoin is $598.467 – about $40 below last week's price for a single bitcoin. Because the idea of bitcoin ATMs are new to people that are not familiar with the virtual currency, the bitcoin ATMs owners don't expect to see people flocking to them. However, that is expected to change soon as local stores like 7-Eleven and Whole Foods are making it easier for people to pay for goods and services using bitcoins.
Related: States Where Bitcoin is Legal! California is Set to Legalise bitcoin
Locations of The Bitcoin ATMs in Los Angeles, California
The exact location of the new bitcoin ATMs in Locali stores on 5825 Franklin Avenue in Hollywood and 701 Lincoln Blvd. in Venice. Jordan Kelley, Robocoin CEO sounds like his all in "We're creating accessibility to bitcoin that has never been created before." he said. Mr Kelley revealed that he has received over 100 requests from potential Los Angeles bitcoin operators and he is taking every single bitcoin ATM request into consideration. That he plans to install many more bitcoin ATM in Los Angeles and Southern California. "Bitcoin is still a little scarcy for consumers," Kelley said. "We try and make it as simple as possible, and with this platform we do that."
Robocoin installed its first bitcoin ATM ever in October 2013 in Vancouver, Canada. They have expanded to Hong Kong, Tel Aviv and 13 other countries with many more to come. Robocoin has 6 bitcoin ATMs operating across the United States. The six bitcoin machines can hold $500,000 worth of bitcoins!
 Source: latimes