Last updated on June 10th, 2015 at 04:37 pm
For the past two years, BetChain has been a pioneer in the Bitcoin casino space and its latest promotion is another first for the industry. BetChain will be offering players up to 50 free spins every week as its newest promotion, becoming the first Bitcoin casino to provide such an offer.
Betchain.com has always provided an excellent player experience at its casino, by adding hundreds of new games, a total of 7 different languages, excellent bonuses and now an incredible promotion. While other casinos have stopped accepting players from certain countries or are lacking provably fair technology, BetChain has stayed the course and offered these and more. The addition of free slot games through the no deposit free spins is just the latest unique perk from BetChain.
Every Friday, BetChain Casino will be automatically crediting its players with free spins – as many as 50 at a time. Only registered players will be eligible for this offer. BetChain will also be running a special social media campaign on Twitter where players can use the #FreeSpinsFriday hashtag to stay up to date on all details with this promo.
BetChain believes that this latest offer will help to further its position as one of the top Softswiss Casinos as well as one of the leading Bitcoin casinos overall. Casino host Brian Mason issued the following statement in relation to the free spins:
"We have always strived to be at the top, and we have achieved many 'firsts' along the way. To be the first Bitcoin casino to offer free spins was a major milestone for us and having accomplished that, we feel that we are giving our amazing players what they deserve."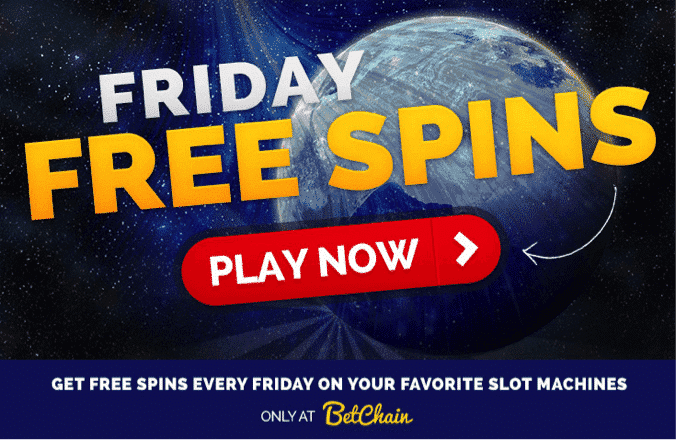 Not only will Betchain's players greatly benefit from being offered free spins every week, but it will surely boost the site's already impressive affiliate program. BetChain boasts one of the world's largest casino affiliate programs, and with affiliates now able to offer free spins as incentive, the traffic is sure to increase.
BetChain is achieving another incredible first and Free Spins Friday is certainly going to impress a lot of players. Stay tuned for more updates and details about the promotion, and of course follow #FreeSpinsFriday on Twitter for more information.
For more information about this amazing new promotion, visit https://www.betchain.com/free-spins

Blogger and owner of 99Bitcoins. I've been dealing with Bitcoin since the beginning of 2013 and it taught me a lesson in finance that I couldn't get anywhere else on the planet. I'm not a techie, I don't understand "Hashes" and "Protocols", I designed this website with people like myself in mind. My expertise is online marketing and I've dedicated a large portion of 99Bitcoins to Bitcoin marketing.

Latest posts by Ofir Beigel (see all)