This page lists the top 10 best Bitcoin faucets available in 2016
With so many Bitcoin faucets out there and so many shutting down each day it's hard to tell the good and stable faucets from the temporary ones. The aims of this page is to list before you what we think are the best Bitcoin faucets on the market today. Faucets were chosen by categories of payout, referral commission, age, online support and other relevant characteristics.
Milli – A high paying Bitcoin faucet by 99Bitcoins
Milli is 99Bitcoins' faucet. It was created using an older more mature faucet called "BitcoinGenie" and rebranded under the name Milli. What's so special about Milli is that other than paying out up to 10,000 Satoshis every 5 minutes (which is a pretty high payout), we take extra care of creating a community around our faucet.
Visitors are encouraged to leave comments in the comment section on the site and can even win up to 50,000 Satoshis for helping to identify a bug on Miili.
---
Alien Faucet – Kill aliens and win Bitcoins
Alien Faucet is part of BitcoinAliens, one of the largest websites about Bitcoin today. Other than being a great inspiration for Milli (our own faucet), Alien Faucet is also one of the highest paying faucets around with a track record of over 18 months. Whenever you claim Bitcoins you "kill" a specific alien, and depending on the type of alien you've killed you get a reward.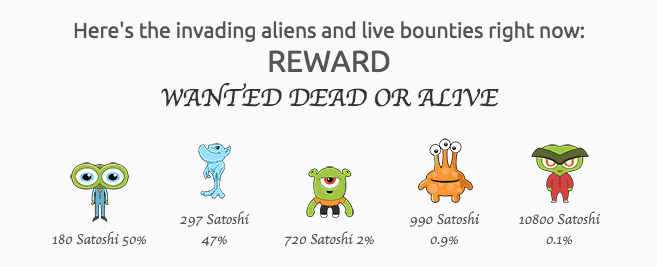 The only downside I can see to Alien Faucet is the fact that you have to register and confirm your email address in order to start claiming, so you can't just jump in and claim Bitcoins. Other than that it's probably the most popular faucet out there.
Click here to visit Alien Faucet
---
Bitcoin Zebra – Feed the Zebra, claim Satoshis
Another well respected faucet in the Bitcoin community is BitcoinZebra. The faucet recently changed hands and is now under the control of a new owner. Even though the faucet's page is filled with ads and is pretty hard to navigate through "feeding the Zebra" is pretty straight forward.
No registration is required for this faucet and payments are made directly to your bitcoin wallet on Saturday/Sunday each week providing your balance is at least 5500 satoshi. You can also get direct payment if you register with your email address.
Click here to visit Bitcoin Zebra
---
Bitjoy – Play mobile games to win Bitcoins
Bitjoy is a company focused on making the use of Bitcoin faucets fun. Instead of just going around websites, entering your Bitcoin address and solving Captcha you can play a game on your mobile phone. Bitjoy's first game is "Bitcoin Froggy" and it's a pretty enjoyable one. You get to hop around the Bitcoin frog as it gobbles up Bitcoins that will later become your payout.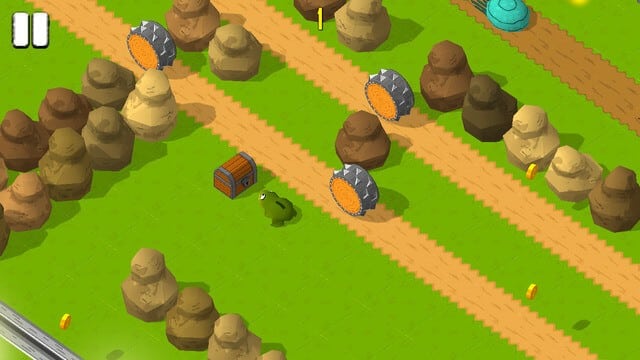 The great thing about Bitjoy is that they are continuously working on new games so you'll never get bored. For Android they have already launched their second game – 80s Space Shooter. In order to receive payouts you'll need to register an account on Bitjoy and you can withdraw your payouts at any time.
Click here to visit Bitjoy
---
Free Bitcoin Home – Long wait but reliable payouts
FreeBitcoinHome is just another FaucetBox faucet. The reason it is mentioned in this list is due to its credibility throughout the passing year. The faucet has been steadily paying its users and seems to be working fine without any bugs. It also gives out a 15% referral commission which is a bit on the low side. The major con of this faucet is its timer – it's set to 720 minutes which means you'll have a very long time between claims.
Click here to visit Free Bitcoin Home
---
Robot Coin – Kill robots, upgrade your attack and earn Bitcoins
Much like Alien Faucet, Robot Coin is a web game that allows you to kill deadly robots in order to gain Bitcoin. Your player will have a default attack level and each robot has a certain amount of attacks it can sustain. For example, when you start out the game you are up against a robot with 100 life points, each attack you deal will reduce 20 life points. So after 5 attacks the robot will die. The timer on Robot Coin dictates how much time you'll need to wait between the attacks. And of course each robot you kill will give you a certain amount of Satoshis.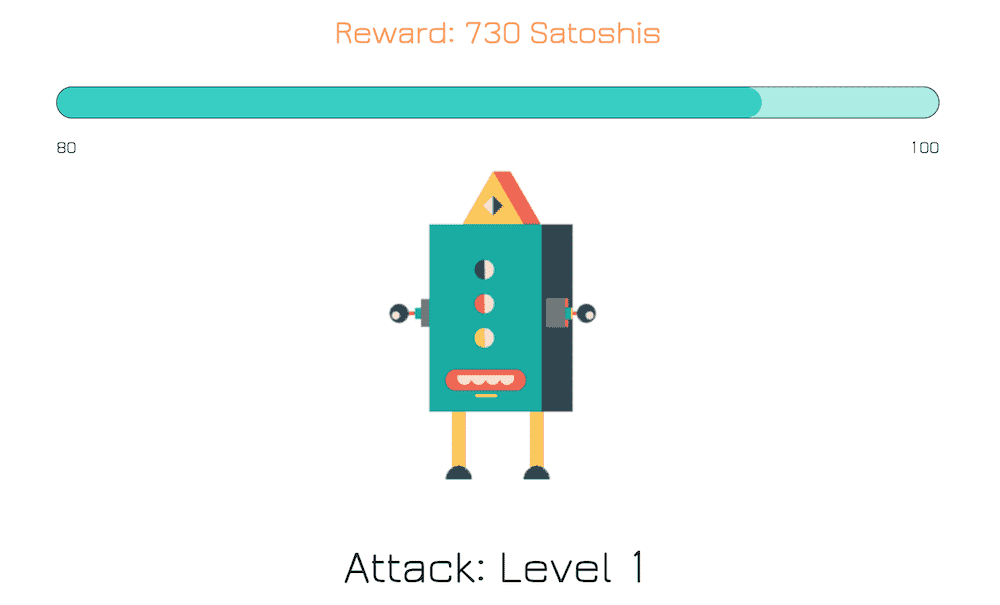 Even though the idea of Robot Coin is really great, the execution makes it somewhat annoying. It takes least 5 attacks to kill a robot which means you won't be getting any rewards before 25 minutes have passed. Also in order to upgrade your character and deal more damage you'll need to spend some of the Satoshis you've earned. Last but not least there is a withdrawal fee of 5K Satoshis on each withdrawal.
Click here to visit Robot Coin
---
Bitcoinour – Claim Bitcoins by doing…nothing.
Bitcoinour is a different type of faucet. It allows you to claim Satoshis just by staying on the site. Of course the rate of claim is pretty slow, but it's still nice to see your Satoshi count rising just by staying on the site. The rate is around 5 Satoshis / min up to a maximum of 1,600. Once you've hit the maximum you can start using the faucet, but that will require you to wait at least 30 minutes.
So the site basically uses pretty clever ways to get you to stay on it. Payouts are ok, but you're probably going to make larger amounts using other faucets that don't even require you to sign up.
Click here to visit Bitcoinour
---
Weekend Bitcoin – Alien Faucet's younger brother
Weekend Bitcoin is basically Alien Faucet's clone. It's owned by the same company and for those who are familiar with Alien Faucet the navigation will look pretty much the same. Claims are around a few hundred Satoshis (they are not stated on the site) and the timer is set to 30 minutes.
The major downside to this faucet is that you don't really know the faucet's payouts so I can't really judge if it's worth spending your time over it.