mBit Review
By: Alex Miguel | Last updated: 2/9/21
mBit is a crypto-only online casino which offers a range of slot, table and live games. In this article, I'll review some of the services and games mBit provides and cover bonuses, licensing, and its pros and cons, so keep on reading.
mBit Review Summary
mBit is an online gambling platform that has been around since 2014. It's a crypto-only website, allowing users to use Bitcoin, Ethereum, Bitcoin Cash, Litecoin, Dogecoin and Tether to fund their accounts and play over 2000 games. These include slots, table games and live games.
Live chat support is excellent, however many users report questionable conduct by mBit when it comes to withdrawals and claiming large payouts.
That's mBit in a nutshell. For a more detailed review, keep reading below. I'll cover:
---
1. Overview
mBit launched in early 2014 and pride themselves on a privacy-focused service. As with many online gambling platforms, the company is fully licensed and regulated in Curacao – a Dutch Caribbean island.
The platform offers cryptocurrency-only gambling, which includes about 2000 slot and casino-style table games.
---
2. Regulation
mBit is owned and operated by Dama NV, a company which is regulated and licensed in Curacao. Complete information on the company's registered details and licensing is available on the gaming license page of their official website.
Although some of mBit's game providers have their games audited by third parties for fairness, not all of the platform's games have been audited. There is also no mention by mBit of their games being provably fair, so I advise you do your own research.
As with many online crypto betting platforms, the terms and conditions strictly prohibit users opening multiple accounts, and may lead to the termination of all accounts made by an offending user. This includes accounts made from the same IP address, which means you'll have to be cautious about multiple members from the same household creating accounts.
Another thing to be aware of is that the platform reserves the right to check a player's identity before they can collect their winnings. A failure or denial to pass this check can result in the confiscation of any winnings.
Lastly, I came across a clause that stated the "maximum liability" by the website is limited to a maximum of €100, "regardless of the cause of actions". I am not sure to what extent this may be enforced, but this is definitely something to look out for when trusting mBit with handling large amounts of money.
---
3. Deposit and Withdrawal Fees
mBit charges no deposit or withdrawal fees, however typical blockchain transaction fees apply.
It is also worth noting that there are minimum withdrawal limits, including a minimum of 0.001 BTC for Bitcoin withdrawals. This is a somewhat high threshold at current Bitcoin prices, which could result in smaller account balances getting "stuck" in mBit accounts. Although withdrawal limits also apply on other coins, they are more reasonable.
There is also a clause allowing mBit to make payouts of 10 BTC to a user in a series of instalments over 10 months, rather than all at once.
---
4. mBit Bonuses
mBit has several bonus promotions, which reward users for their first three deposits, among other promotions.
The first deposit bonus is the largest, crediting users with an extra 110% account credit when funding their account for the first time. This is limited to a maximum of 1 BTC / 32 ETH / 72 BCH / 250 LTC / 4,200,000 DOGE / 1000 USDT – all depending on the exchange rate.
As with most platforms, there's a catch with this bonus which isn't made explicitly clear: You must wager your initial bonus 35 times within 14 days in order to keep the bonus funds, and/or withdraw them. This means that if you deposit 0.01 BTC and receive a bonus of 0.01 BTC, you will have a total balance of 0.02 BTC and a wagering requirement of 0.35 BTC. Bonus funds cannot be used on live or table games and are subject to maximum wagering sizes.
Similar rules apply to all other bonuses, with all rules and requirements available in the terms and conditions links on each promotion listed here.
---
5. Highlight Games
The first game I played on mBit was one of their recommended slot games, called Booming Seven Deluxe. The game was rather underwhelming, with graphics and music that felt as though they were decades old. It also took me about 10 spins to win anything at all, whereas other slots I've played seemed to pay out smaller amounts more regularly.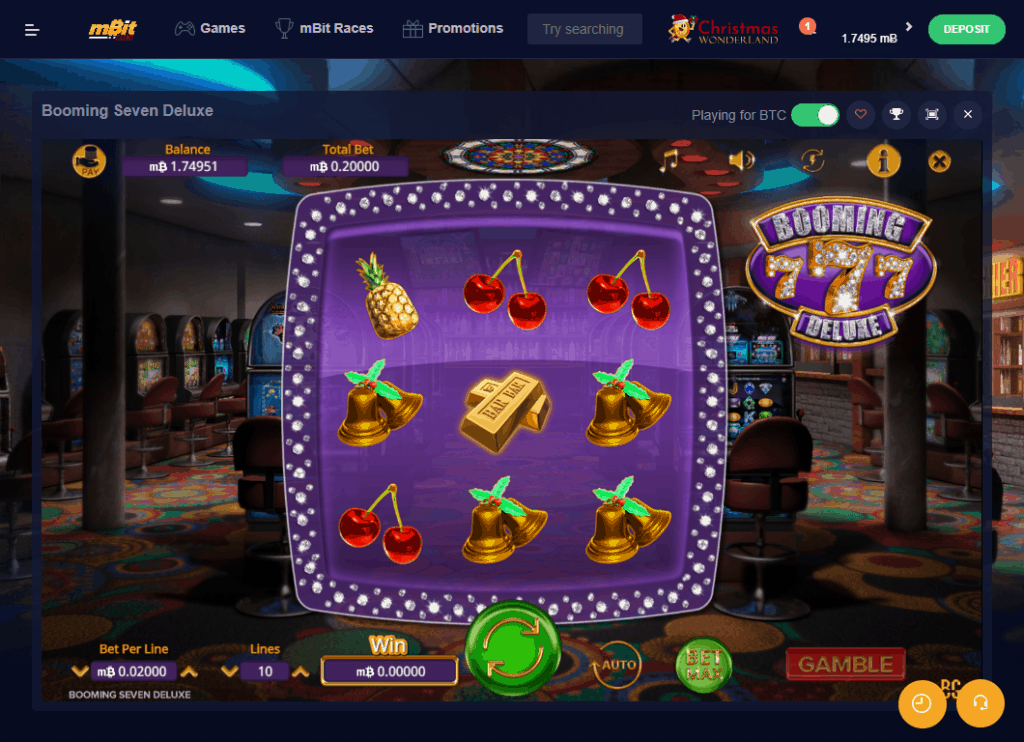 The minimum wager size was 0.02 mBTC, which gave me plenty of spins.
Next up I decided to try out one of the blackjack table games, Blackjack Surrender. This game worked smoothly and was easy to operate, however the minimum wager size was 0.1 mBTC, which chewed up my account balance rather quickly.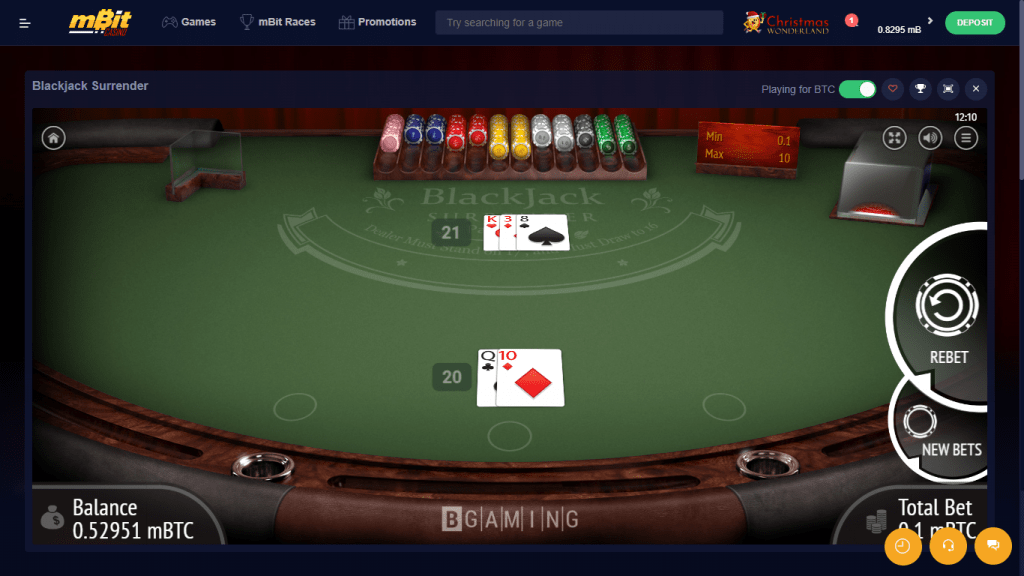 I was hoping there would also be another Black Jack game I could try in the "live game" section, but unfortunately none of the live games would load for me. Upon contacting support, I found out that users need to submit their personal info in order to play any live games – something I prefer to avoid unless I absolutely need to.
Instead, I decided to try another slot game – Book of Cats. This one was much more similar to what I've enjoyed on other online casinos, with a smooth and modern feel to it. It also provided many more instances of winning, with cool animations too.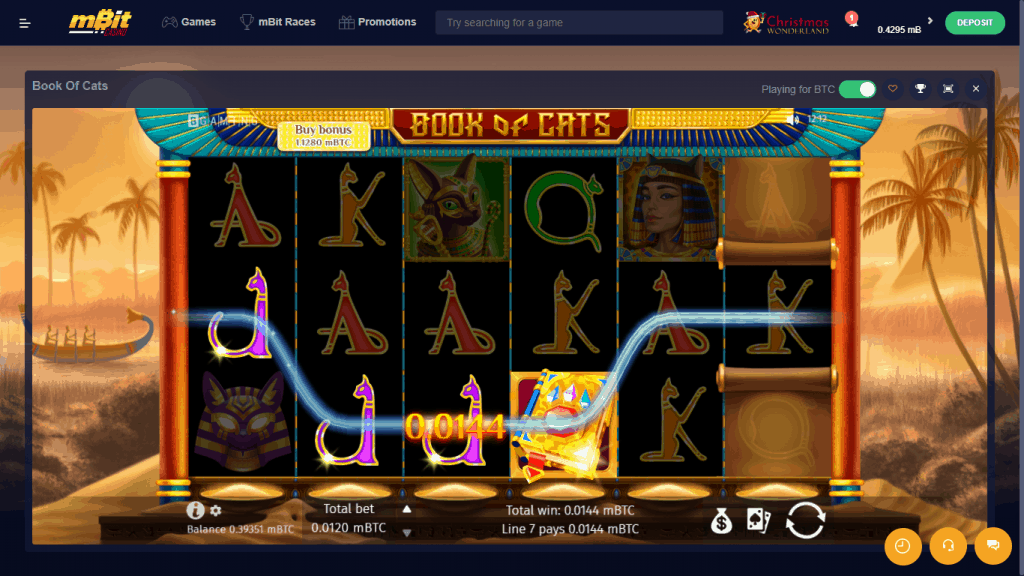 Book of Cats also accommodated smaller wager sizes, which got me many more spins out of my deposit.
Overall, the mBit website was good but a little bit buggy, causing a series of small inconveniences along the way. This included a music mute button which didn't work, a glitching chat assistance box, and persistent "internal server errors" that required me to re-load pages several times. Fortunately none of these interfered with winnings or gameplay, but they did become a little frustrating.
---
6. Currency and Payment Methods
mBit is a crypto-only platform, which accepts just a handful of major cryptocurrencies. These include:
Bitcoin (BTC)

Bitcoin Cash (BCH)

Litecoin (LTC)

Ethereum (ETH)

Dogecoin (DOGE)

Tether (USDT)
There are also minimum deposit amounts which vary for each currency. These are 0.0003 BTC, 0.001 BCH, 0.01 ETH, 0.01 LTC, 0.01 DOGE, and 1 USDT.
Since you can't convert between different cryptocurrencies within the platform, you'll be limited to games which accept your deposited currency.
---
7. Available Countries
mBit disallows users from these  countries to use the casino:
United States of America and its territories, United Kingdom, Portugal, Slovakia, Spain, Israel, France and its overseas territories (Guadeloupe, Martinique, French Guiana, Réunion, Mayotte, French Polynesia, Wallis and Futuna, New Caledonia), Netherlands, Lithuania, Dutch West Indies and Curacao.
There are several further restrictions for specific games, bonuses and jackpots, which are too complex to list here. I recommend that you have a closer look at their terms and conditions page before funding your account or playing any games, to make sure your country is not restricted from any individual games. This will ensure you don't have any of your funds or winnings frozen for playing games that aren't permitted in your jurisdiction.
---
8. Customer Support and Online Reviews
I found the mBit chat support service very helpful, responding to both of my inquiries very promptly and accurately, within just 1-2 minutes. You can also leave them a question which they will reply to via email, however I didn't have to resort to this since they were so active.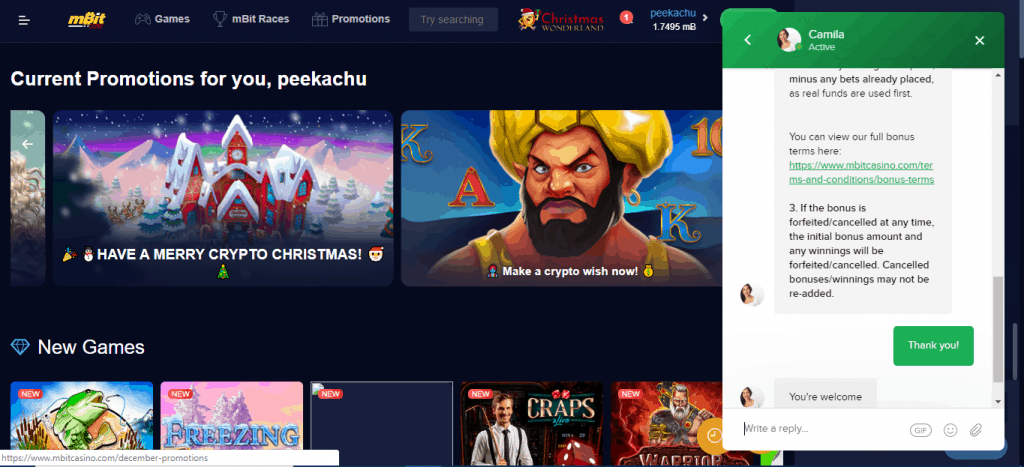 For any frequently-asked questions, mBit also has an FAQ help center, which provides answers to most general inquiries. This section was very helpful in answering a bunch of questions I had about deposits, withdrawals and bonuses.
mBit casino has mixed online reviews, which is not unusual for casinos in general. Common complaints include slow withdrawal times of several days, funds being withheld under the guise of "pending security reviews" and refusal to pay out larger winnings.
---
9. Conclusion
mBit is a nice and basic crypto-only online casino, which offers all of the usual slot and table games. It's easy to use and navigate, however a slightly buggy website made the experience a little worse for me than it could have been. These didn't interrupt games or cheat me out of any winnings, but ruined the smoothness of the gaming experience.
The games also felt a little outdated, with only one of the games I tried feeling like it was very modern at all. Playing live games requires handing over your personal details in order to play them – something that seems to go against their claims of being a privacy-focused platform.
On a positive note, all of the customer support services I used on mBit were great. I received quick and helpful replies to all of my questions using the live chat help box, and I also found the FAQ section was also very useful.
Some mBit reviews across the internet are quite bad and concerning. From a small sample size of feedback, more than a few users complain that mBit makes it difficult for you to claim your prize if you hit it big. Whether these are genuine or not, it's hard to say as both good and bad online feedback needs to be taken with a grain of salt, so use your own discretion.
Finally, I'll also add:
Gambling can be entertaining and fun, but it is also super addictive and should be done responsibly and in a controlled manner. Never gamble using money that you can't afford to lose.
Do you have any experience using mBit? Let us know how it went in the comment section below.