By now, almost everybody in the Bitcoin world knows the Bees Brothers, from Cache Valley, Utah. With only 14, 13 and 10 years old, the siblings Nate, Sam and Ben Huntzinger are probably the youngest cryptocurrency entrepreneurs on the planet.
Their success started almost by chance, when the boys caught a hive of bees a few years ago. At the time, they didn't imagine that this happening would change their lives: it was the beginning of their small business and, later, of a healthy "obsession" with digital currency.
Being homeschooled, the Huntzinger brothers had a lot of freedom to experiment within their new passion (creating their own recipes, for instance), until they discovered Bitcoin and the business got even more interesting.
"One of the reasons we chose to homeschool was to have the freedom to learn what the kids want and have fun doing it. Neither of us knows anything about cryptography, so we are having to learn it too, but hopefully soon they can teach themselves without us. This journey of learning about bees, starting a business, and now the world of cryptocurrency has been a great learning adventure for the whole family", explained the parents.
According to Craig and Kami Huntzinger, "the boys have learned about investing, interest, markets and have met people online from all over the world. We are currently having to reevaluate our business, because it is taking enough of our time, that other pursuits like learning cryptography and programming are hard to schedule in. We are not sure where this is going, but they are open to new ideas, and revolutionary ways of thinking".
Bitcoin Examiner talked with the Bees Brothers to know more about them and their business. And guess what? They already mined their first Bitcoin!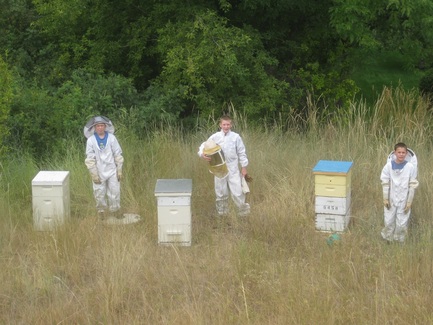 How did you discover Bitcoin?
Bees Brothers – A friend or ours who we met during Ron Paul's presidential campaign told us about it.  He told us how it couldn't be inflated by anyone because no one was in charge of it. At that time, we were thinking about selling our honey stuff on the internet, so we started learning more about Bitcoin.
What do you think is so great about it?
We think that it is really cool that you can transact with it all from anywhere in the world so fast.
How did you decide to start selling your products and accepting Bitcoins?
We were too busy to learn how to mine, and all of our money was tied up with Bees Brothers. Then we realized that all those miners need to eat something. Maybe they would like our honey products. We were already selling our stuff at the Farmer's Market and decided we might as well try selling it for Bitcoins.  We posted on the bitcointalk forums.
Do you only accept Bitcoin online or also in person?
We can accept it at our Farmer's Market, but we have never had anyone do that yet.  We still need to get a smartphone so we can not only accept Bitcoin, but also spend it in person.
We know you already mined your first Bitcoin. How did you get into mining and which technology are you using?
We are brand new to mining and are just now learning about it. Last week we got 10 Erupters, and hopefully before the end of the month we will receive 320 Avalon chips. I doubt we will make a profit, we just want to learn how to do it.
What do you think about the future of Bitcoin?
I think that it will continue to grow as more people learn about it. We still feel like newbies, but have fun learning about it, and Bitcoins are easier to use for our business than learning how to use credit cards and paying their fees.