After changing its terms of service for developers in order to reinstate Bitcoin apps in its App Store, Apple has now welcomed back Blockchain's application. The world's most famous cryptocurrency wallet – which was kicked out from the platform in February – was reintegrated this Monday (28th).
Earlier this year, Apple's decision to ban the app caused a wave of controversy, especially among the Bitcoin community. With the digital giant refusing to provide an explanation, the videos of Bitcoiners destroying their Apple products multiplied around the web.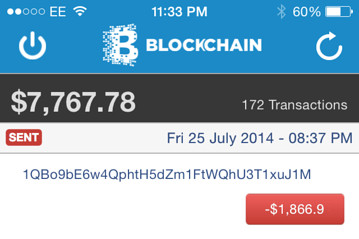 In the beginning of June, when Apple reinstated Bitcoin apps in its store following the changes made to section 11.17 – "apps may facilitate transmission of approved virtual currencies provided that they do so in compliance with all state and federal laws for the territories in which the app functions" -, the company said it would not ban legal and compliant Bitcoin apps.
It looks like Blockchain's app, which allows users to send and receive BTC, now respects all the guidelines. In June, when Blockchain's app was banned from the platform, the CEO Nicolas Cary announced he would resubmit the program.
"Apple has been very responsive during our submission and approval process and we're thankful for the partnership. This really signals Apple's commitment to supporting developers on Bitcoin related projects – it's very encouraging", he said.
According to The Wall Street Journal, Blockchain recently launched its iOS app with a revamped interface and new options, now allowing users to search for Bitcoin-friendly merchants. The company explained that the iOS version has been "completely rewritten from the ground up with an emphasis on security and usability".
Apple refused to comment the decision throughout the day.