A new survey conducted by Miningpool.co.uk in the United Kingdom has revealed that the majority of British Bitcoiners favor future regulations by government. Forty-eight percent of the 10,000 people polled over the last two months admitted to seeing the development of regulation as a positive step.
When asked about their opinion regarding Bitcoin regulation, only 13% said they don't believe in it. On the other side, almost half of the people polled were in favor of regulation.
One of the participants explained his position: "[regulation] clarifies some grey areas for businesses and indicates that the government does not currently consider it a threat to the banking system. there may be long-term negative side-effects [of being regulated by the government], but the short term implications seem positive."
Many poll takers hope that Bitcoin regulation can help to raise awareness about digital currency and improve its adoption.
The survey has also revealed that half of all UK-based Bitcoin users are between 25 and 34 years old, while only 10% are older than 45. The number of women using BTC in the country is still low, with only 6% of the people surveyed claiming to be female Bitcoiners.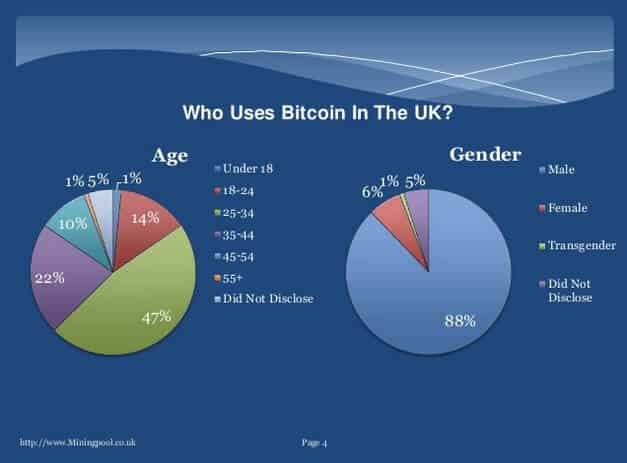 This means there is a huge opportunity for entrepreneurs and investors to bring more women and older users into the Bitcoin space.
According to the poll, there's also work to be done when it comes to promoting the advantages of cryptocurrency amongst businesses and merchants. Over 80% of the poll takers said they were disappointed at the low number of UK businesses that accept BTC as a payment option. Also, almost half of the people polled said businesses were still reluctant to accept Bitcoin. Less than 15% were happy about the current state of the market, saying they were able to use BTC locally.
Two-thirds of the 10,000 poll takers revealed they were saving their BTC or holding onto it for future purchases. Day-trading was the next most popular activity (20%), closely followed by sending the BTC to family and friends and paying bills.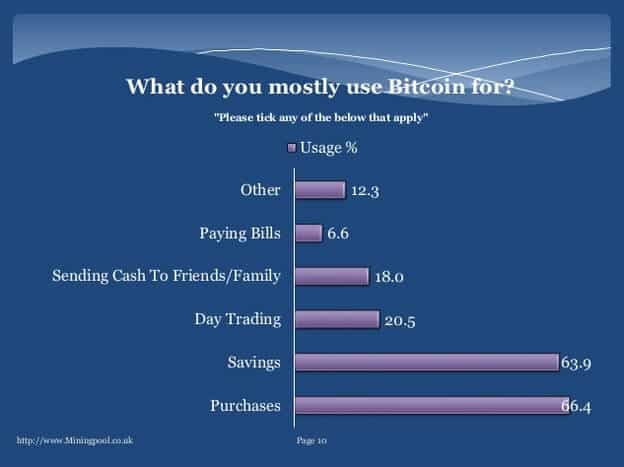 Almost half of these Bitcoiners (47%) are getting their Bitcoin from other BTC owners or broker sites like LocalBitcoins, a marketplace for buying and selling cryptocurrency. BitBargain was the second most popular site in the country.
But it's also interesting to see that almost one in five Bitcoin users generate their own cryptocurrency through mining services, while one in three uses exchanges like Bitstamp. The Slovenian exchange is the most popular amongst the UK Bitcoin fans, followed by Coinfloor and BTC-e.