Last updated on August 26th, 2016 at 05:53 pm
The company SkyCraft is now accepting Bitcoins for its airplanes. The decision was fueled by the firm's "desire  to bring general aviation into the 21st century", as well as "spark interest in flying to Bitcoin holders who may not have already become familiar with its beauty".
SkyCraft announced the good news via a press release published on the company's website. The business is taking cryptocurrency in exchange for its SD-1 Minisport, the result of "seven years of Czech engineering and design", a vehicle suitable for any beginner pilot and now considered the first aircraft that can be bought with Bitcoin.
To buy a SD-1 Minisport, you will need to spend $54,850. At the current exchange rate, this means a value around 81 BTC, but $2,000 (almost 3 BTC) must be paid first as a deposit.
The company, which is processing its digital currency payments through BitPay, hopes "this will signify an important moment for both the future of general aviation and the future of Bitcoin".
[Update] In the meantime, SkyCraft already sold its first airplane. The buyer is the famous Bitcoin entrepreneur Charlie Shrem, who announced the news via Twitter.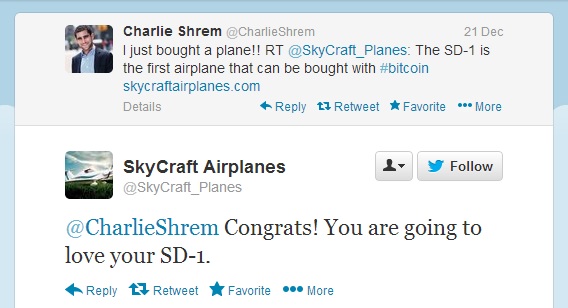 Shrem bought the first SD-1 Minisport with cryptocurrency and, apparently, he couldn't be more pleased.
Maria is an experienced journalist currently living in the UK. She has been writing about Bitcoin and the altcoin universe since 2013. She is also a member of the Lifeboat Foundation's New Money Systems Board and a big cryptocurrency supporter.