Nota: se vuoi comprare Bitcoin con Paypal o carta di credito per fare trading puoi farlo diretamente  su AvaTrade o Plus500 facendo CFD trading con Bitocin. Per ulteriori informazioni leggi questo articolo. 
So che molte persone si sono chieste molte volte come fare queste operazioni, così ho pensato di scriverci sopra un post. Comprare Bitcoin con una carta di credito è molto simile a comprare Bitcoin con Paypal, dato che in tutti e due casi dovrai passare per il sito di Paypal. 
La prima cosa da fare è andare su VirWox, il sito per lo scambio di Valute Virtuali Mondiali che è nato inizialmente per lo scambio di Lindens di Second Life ( valuta virtuale conosciuta anche come SLL). Noi useremo VirWox come un intermediario per comprare Bitcoin usando una carta di credito dato che la maggior parte di siti non permettono di fare questo a causa di diversi problemi. 
Una volta entrato VirWox (Virtual World Excahnge) devi aprire un nuovo account . C'è il link in alto a sinistra "non ancora registrato" come mostrato dall'immagine in basso: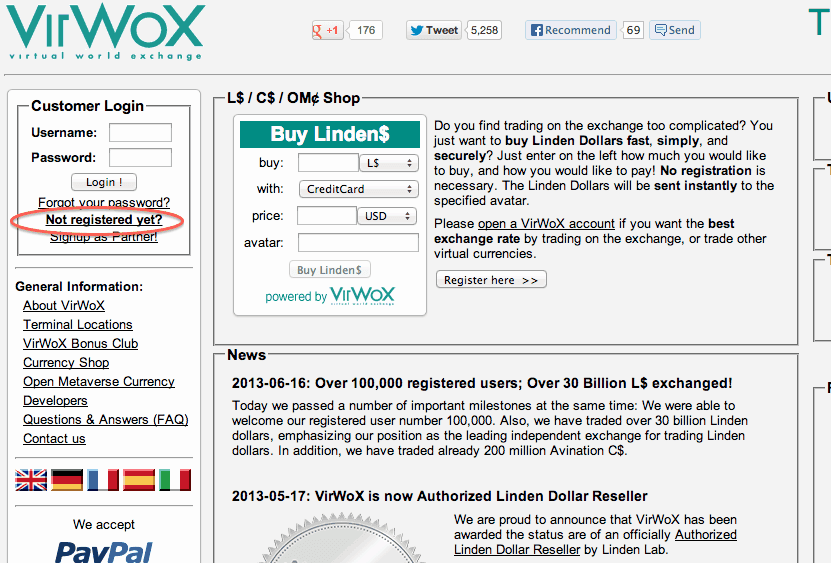 Dopo dovrai inserire  i tuoi dati personali, quando ti chiede il nome dell'avatar, lascia questo passo e metti "no avatar": l'avatar è quello del gioco Second Life ed in questo caso non ci interessa.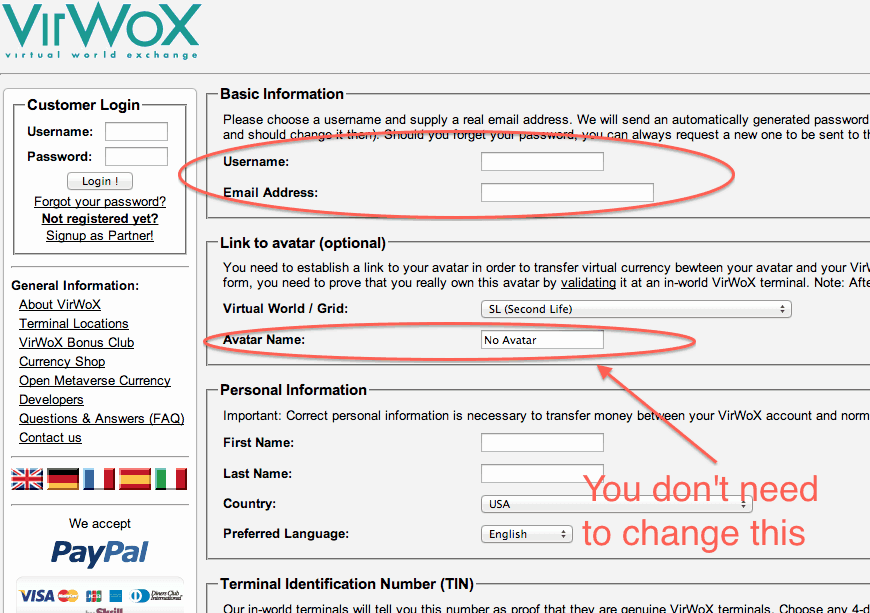 Una volta fatto puoi cliccare su "Registrati"e riceverai una mail con la tua password temporanea da VirWox. Ti raccomando caldamente di cambiare la password prima di iniziare a trasferire soldi da questo sito.
Una volta ricevuta la mail con username e password dovrai depositare qualche soldo nel tuo account. Clicca su "Deposita"nel lato sinisitro e vai sull'opzione "Paypal Express Checkout"e potrai scegliere quanti soldi vuoi depositare.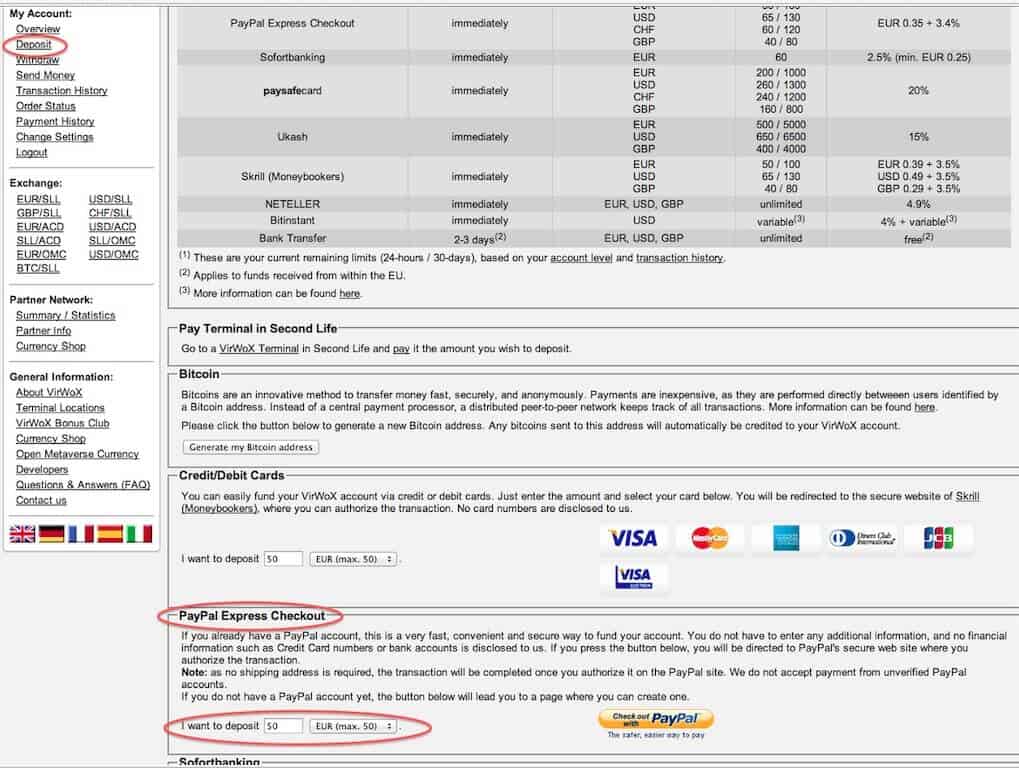 È importante sapere che c'è un limite massimo di denaro che puoi depositare che aumenterà con il tempo (per sapere quali sono esattamente le soglie limite, visita il sito ufficiale di VirWox). Una volta inserita la quantità da depositare clicca sul bottone "Paypal".
Adesso sarai spostato sulla pagina di pagamento di Paypal. Se hai già un account Paypal puoi fare login e pagare, Se ancora non ne hai uno dovrai cliccare sull'opzione "non hai ancora un account Paypal?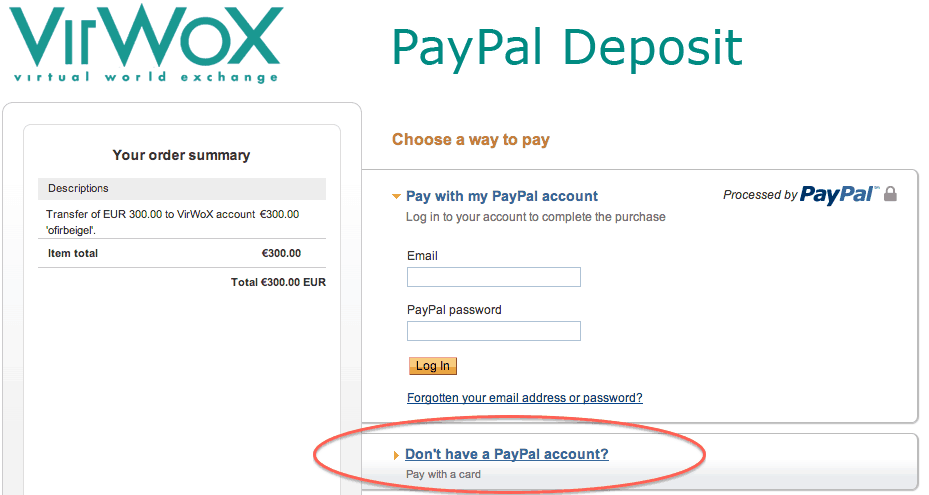 Una volta cliccato qui entrerai nelle informazioni della carta di credito e potrai depositare monete su VirWox con la tua carta di credito.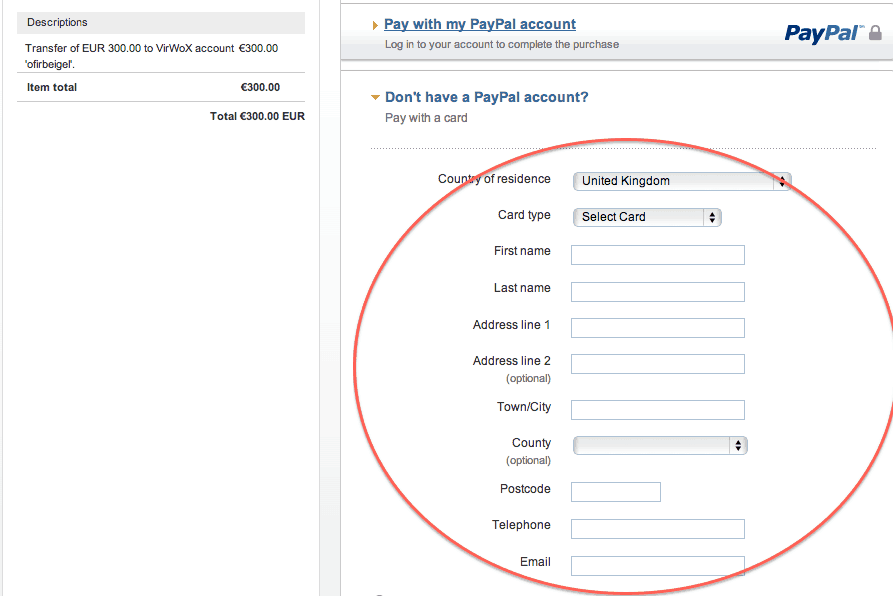 Una volta depositato il denaro vedrai come in alto a sinistra su VirWox appare il saldo del tuo conto in Dollari Statunitensi (USD). È arrivato il momento di comprare Bitcoin! Il primo passo da fare è comprare SLL con i tuoi dollari, vai quindi su SLL/USD e seleziona quanti SLL vuoi comprare secondo il tasso di  cambio corrente.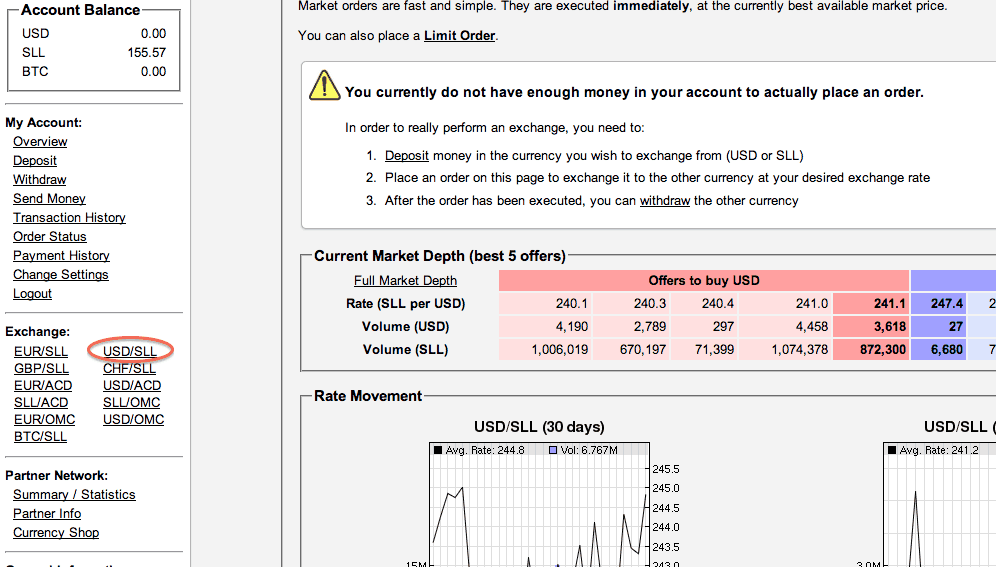 Nell'immagine in basso non ho abbastanza USD per comprare SLL, ma se hai seguito tutti i passi correttamente vedrai subito la quantità di SLL che puoi comprare.
Una volta anche avrai comprato gli SLL appariranno nel tuo saldo (in alto a destra nell'immagine), e potrai scambiare SLL con Bitcoin. Vai sullo scambio SLL/BTC e cambia quanti SLL vuoi.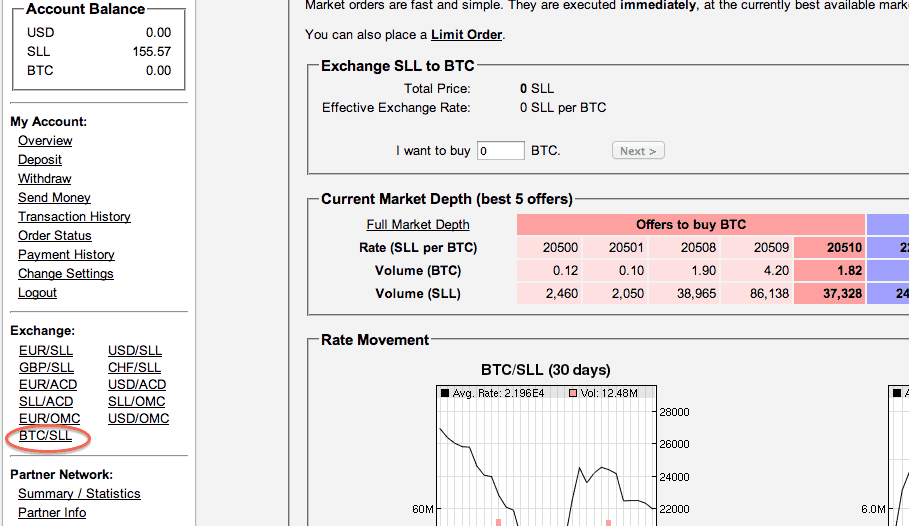 Importante!!!
A volte VirWox effettua controlli manuali dopo questi passaggi, così potrebbero volerci 48 ore, ma normalmente ne bastano sei, affinché tu possa spostare i tuoi Bitcoin nel tuo portafogli. In questo caso clicca su "preleva" ed inserisci un indirizzo Bitcoin valido sui cui mandare i tuoi Bitcoin acquistati.
After the transaction will be approve (this can take up to 48 hours but usually takes around 2) you will see the Bitcoins in your wallet. So that's it for how to buy Bitcoins with a Credit Card.

Dopo che la transazione sarà approvata (possono volversi dalle due alle 48 ore) vedrai i Bitocoin nel tuo portafogli. Ecco quindi come comprare Bitcoin con la Carta di Credito!