It's still running on its beta version, but it's already making a fuss in the Bitcoin world. We are talking about the new BitcoinShop.us, the closest thing Bitcoiners currently have to the giant Amazon, for instance. Finally, cryptocurrency users can exchange their virtual coins for quality products through a platform that was created thinking about them.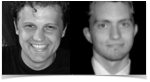 The project was developed by the entrepreneurs Michal Handerhan and Tim Sidie, who started BitcoinShop.us to increase the offer of practical products that can be bought with Bitcoin in a space exclusively dedicated to cryptocurrency.
"We strongly believe Bitcoins are here to stay, and that is why we decided to create a marketplace where Bitcoin owners can exchange their Bitcoins for a wide variety of goods. We consider Bitcoins to be a legitimate currency, a currency strictly controlled by mathematical and free market principles, and not by political or geographical factors", the founders wrote on the website.
The platform already has a huge base of items with more than 55,000 products distributed through 19 departments, which include books, electronics, toys or appliances, just to name a few examples.
Besides the main idea being great, the two founders managed to create a pleasant website, with a very simple and intuitive interface. There's even a section called "Top Recomendations of the Month" that highlights some of the best items available. Here you'll be able to find almost everything, from high-end products to everyday stuff.