Valentine's Day will never be the same at BTER. The Chinese Bitcoin exchange was hacked on Saturday, February 14th, and 7,170 BTC (roughly $1.75 million) were stolen from the platform's cold wallet. 
The company's website is currently down. The homepage is simply displaying a short statement at the moment, identifying the transaction connected to the hack. "7,170 BTC got stolen from our cold wallet in this transaction," reads the message.
https://blockchain.info/tx/f5b0363f03e1ed8bb812c135361ea93590c831ce9f13a3750be1b93575baccc6
The hack was firstly reported when some of the exchange's customers noticed "a number of elite transactions moving from Bter's cold wallet to a random Bitcoin wallet address," NewsBTC.com reported. After the first set of transactions, 7,170 BTC were moved to another wallet.

Following the heist, the China-based exchange announced a 720 BTC bounty to whoever is able to rescue the stolen funds.
In the meantime, there has been developments around the investigation. The website 247CryptoNews.com found out that the 7,170 Bitcoins were "distributed equally to seven accounts, all of them relayed in a Swiss Based IP '46.28.204.193' which is hosting a crypto-related website, ."  However, a few hours later the website announced that "the relay node '46.28.204.193' didn't have any monitoring service installed on it that would have helped us to reach the real source of hack in a more easier way."
247CryptoNews also reported that some BTER clients "are so desperate" they started "sending Bitcoin transactions to the hacker addresses with different notes."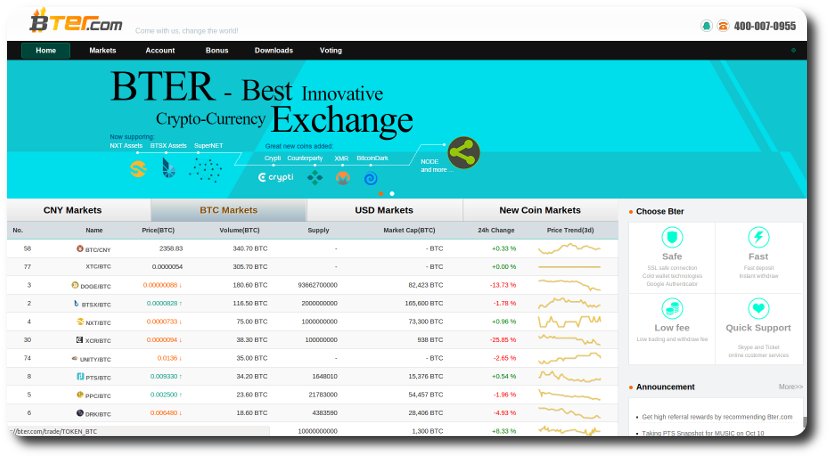 For now all BTER "wallets have been shut down and withdrawals of the unaffected coins will be arranged later," the exchange said after freezing all services as a matter of precaution.
The attack is raising concerns around the fact that the target was BTER's cold wallet, which works offline. It is not clear at the moment how the hack was carried, but a few online rumours point to the same weak spot exploited by hackers back in August 2014, when BTER lost $1.65 million in NXT funds.
The Chinese exchange's safety debacle is the second major Bitcoin-related hack to hit the ecosystem in less than two months. In January, the Slovenian exchange Bitstamp lost around $5 million worth of BTC within a massive hack, but the company was able to rise again with a new and improved safety system.
It looks like the hack has slightly affected Bitcoin's price. The value of one BTC was a bit over $250 on February 14th, but it has dropped below $235 in the meantime.