If you've been paying attention to Bitcoin's price lately then you've probably noticed the huge drop in its price in the last couple of days. But even though the price has fallen below $200 in some cases there's no need to panic.
About a year ago I've written a post about the different characters in the Bitcoin universe. Here's how each one of them can profit from the current situation.

The Investor – Buy more Bitcoins for less
The first most obvious advantage of this situation is that you can get Bitcoins at dirt cheap prices. The last time Bitcoin was this low was around October 2013 – almost 14 months ago. There's an old saying by Baron Rothschild that goes "Buy when there's blood on the streets…even if it's your own". This is one of the best opportunities in the last year to buy more Bitcoins.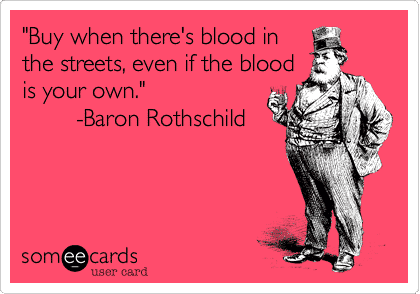 The Traders – Short sell Bitcoin
People often seem to forget, or they are completely unaware that it's possible, to short sell Bitcoin and profit from price drops. Short selling is usually done through companies such as Plus500 or AvaTrade who allow you to trade Contracts for Difference.
For those of you who are unfamiliar with this short selling basically means borrowing an asset, such as Bitcoins, to sell  at current prices. Then, later on you can purchase the Bitcoins to pay back the person or organization you borrowed them from when selling the first time around. Hopefully when you go to repurchase the Bitcoins, prices will have dropped, so it will be cheaper to purchase the assets that need to be paid back.
The Skeptics – Laugh at an enthusiast
There's no greater joy than gloating 🙂 If you absolutely hate Bitcoin this is your time to say "I told you so" to as many Bitcoin ehnthusiastics you can find. Probably some of the biggest haters like Warren Buffet and Mark Williams who believe that Bitcoin will crash in the future are looking like this: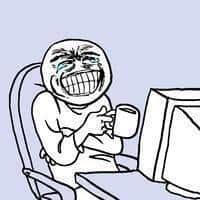 The Merchants – acquire more Bitcoins
If you're getting paid in Bitcoins as a merchant then this might be a good opportunity for you. I don't mean if you're accepting Bitcoins through Bitpay or some other service like that exchanges Bitcoins immediately to dollars. Rather if you're actually charging people Bitcoin that you get to keep.
I see this as an advantage since you're getting a lot more coins on each sale now. For example – I get paid $15 worth of Bitcoins when someone buys something from me, so today I make around 0.075BTC where as a few weeks ago I would have made only 0.038BTC. Of course this is mostly valid if you have some fiat currency as backup.
The Evangelists   – (make a note to) Laugh at a hater
If you're a big believer in Bitcoin (just like I am) then this is the time to take out your cameras and document all of the filth that's being thrown around at Bitcoin. Just so you'd be able to get people to eat their hats later on. For example…