After start shipping its first Jupiter mining rigs in the beginning of October, KnCMiner has made a colossal amount of money in just four days during this last week, selling $3 million worth of Bitcoin mining equipment.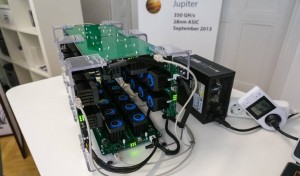 This very active period of sales happened between 7th and 10th November, according to Coindesk. It was during these days that Bitcoin's price skyrocketed, causing the Sweden-based manufacturer to sell out of Saturn and Jupiter rigs. The company has also taken the maximum number of pre-orders possible.
"While we have seen a significant increase in demand for our line of machines from the last quarter to this one, what happened in [that period] has been unprecedented for us, maybe unprecedented anywhere in the Bitcoin mining industry", Andreas Kennemar, KnCMiner's CEO, told Coindesk.
The entrepreneur adds that "the increased activity around Bitcoin in just half a week undoubtedly had a sizable impact on our sales". Kennemar assures the company is now focused on meeting the clients' demands, which will probably continue to grow, "especially as Bitcoin's popularity continues to soar".